City Chic now has Afterpay! My picks!
Oh hey, long time no see. This flu I have has had me bed ridden in a feverish nightmare. There has even been talk about going to the hospital. But I'm fighting through. On my quick browse online, I noticed that City Chic now offer Afterpay. THANK THE FASHION QUEENS! I adore City Chic, but being completely honest, it's not something I can usually afford. No longer have a store close by,  my go to buying via layby isn't an option. I really do love afterpay because it makes so many things more accessible to me.
I also want to point out, no, this post isn't sponsored, it doesn't even have affiliate links because all that is too hard for my head to work out now. This is just me being excited. So without further ado, i've gone through and picked a few of my faves from City Chic right now.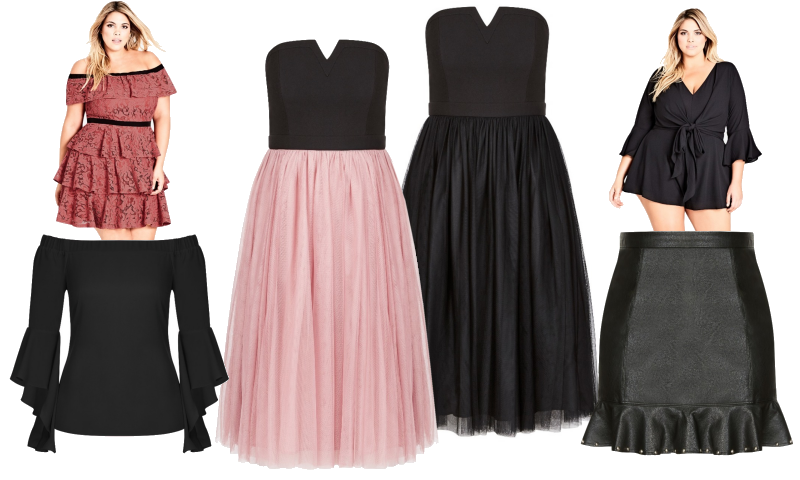 LADY LAYER DRESS – $129.95 – Just the look of this makes me want to dance! || ROMANTIC SLEEVE TOP – $79.95 – I really do love a statement sleeve || POWER PRINCESS DRESS – $159.95 – In Black or Pout || LACE TWIST PLAYSUIT – $99.95 || STUD FRILL SKIRT – $89.95
MESH DECADENCE TOP – $79.95 || KARA BRALETTE – $49.95 || MIRROR DENIM SKIRT – $79.95 – So this is covered in what they are calling a 'mirror' print, and its so shiny! I haven't seen it in person to say if it is actually holo or iridescent, but a friend sent me a snapchat of it and it looks AMAZING!
ROSE DEVOTION TOP – $40.00 || COOL SHEER DRESS – $60.00 || ROSE ADORE DRESS – $70.00 || CRISS X BODY CON DRESS – $40.00 || FLORA TOP – $50.00 || PLEATHER MINI SKIRT – $50.00 || JULIET DRESS – $50.00 – In Black or Pink || PIXEL FLORAL DRESS – $30.00 || LACE DEEP V CORSET – $50.00
I can't share this post without giving a shout out to this dress, because I love it. I just noticed they've released it in another colour way too! The black and red will always have my heart. I could easily write an essay on my love for this dress, but instead, you can check out my previous posts HERE and HERE on it.
DOLCE ROSE DRESS – $199.95 – In Black & Red or Black & Soft Melon
This is only a slight selection of pieces I like, be sure to check out the online store for way more items! All stock and prices are for the Australian store, and Afterpay is an Aussie only service.
What is your favourite?