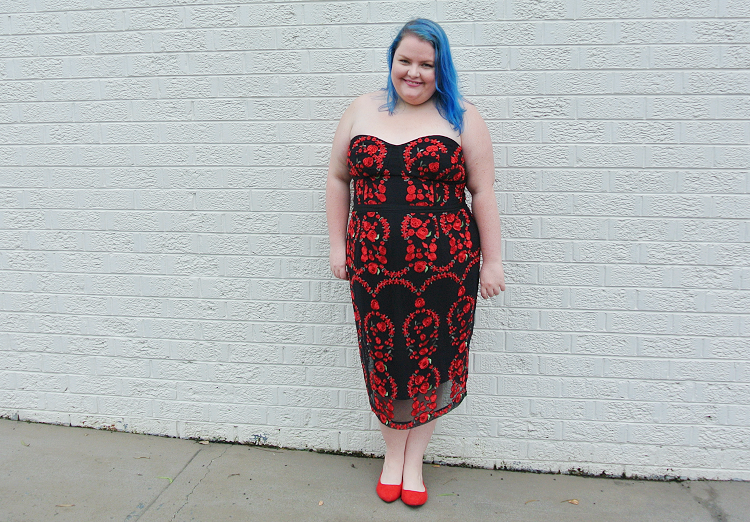 Outfit – City Chic Dolce Rose Perfection.
I find dressing for weddings a bit crazy, I overthink everything. While I know many of the 'rules' don't really matter these days, I still find myself sticking to them. This past weekend my cousin got married and I had been on the hunt for the perfect dress. I decided to push my comfort zone and self-imposed wedding fashion rules & went all out in this stunning City Chic dress.
Normally, I wouldn't wear so much black to a wedding, but paired with the red and the stunning rose embroidery, this dress just called out LOVE to me. That's what Weddings are really about, aren't they? Love. The dress is rather 'sexy' but pairing it down with a cardigan and flats made it a bit more modest. I certainly still felt like a million dollars!
I was slightly worried about how it would fit as I couldn't get into a store to try it on, but thankfully, it fit like a dream. The dress is a size Large and thanks to the boning in the dress, I didn't need to wear a bra. It has NO stretch. This dress would fit someone with smaller breasts, I'm a large B/ small C but I still had some room. I can't normally pull off strapless dresses, most plus size strapless dresses cater for larger busts, so they just fall down on me. This dress does come with removable straps you can use.
The detail on the dress is stunning and I'm trying to think of ways I can wear it more often. The embroidery trend is really in fashion at the moment, but the dress itself is really timeless. I can see myself pulling it out years down the track and it still being a show stopper.
Weather in Wollongong was hot, humid and rainy, so I kept my make-up rather simple. I was going to go for a red lip, but decided to just go with a nude-pink shade.
Dress – c/o
City Chic
– I'm wearing a size L
Do you have any wedding fashion rules?