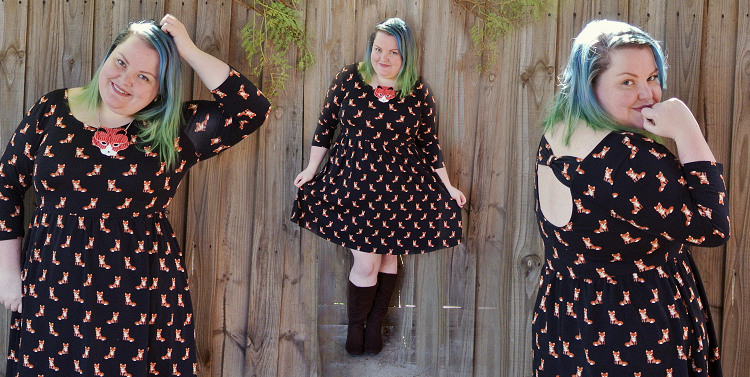 Outfit – Plus size – Fox on Fox on Fox!
Fox dress! Fox Dress! Fox Dress! You may have seen this dress in my last Lustlist, and then in my Haul Video, oh, and on an instagram post. Yes, I am a repeat outfit offender, but when the outfit is so good, you wear it often! Well, I personally do!
Yesterday I went out to lunch for Yum Cha. It was the first time I'd ever had Yum Cha, and by golly was it delicious! I see a lot more Yum Cha in my future! I think my favourite was the Sugar Cane Prawn. I've only recently started eating prawn, I was allergic for so long, but now I know that as long as I don't come in contact with the shell, I'm okay!
I really am so glad I got this dress, I just adore it! It's super comfy and the print is just SO cute! Though, you can tell i'm a cat owner from the stray cat hairs!
Technically this Erstwilder necklace is a cat, but I think paired with this dress it passes as a fox.
I've had these boots for ages now, I bought them when I still lived in Sydney. I have them in Black too, which tend to get more of a workout, but I think the brown just works well with the dress. I realised I need a brown bag now to go with this outfit, one think I never thought I'd ever think!
The back of the dress makes me love it even more, the cutout feature with a bow like top strap gives it some extra pizazz, but it's cut in a way you don't show the back of your bra.
Dress –

Forever 21+ (Size 2x) || Boots – Payless Shoes


Necklace –

Erstwilder || Earings – Can't remember, sorry!
Are you a fan of foxes? Have you seen one in the wild?