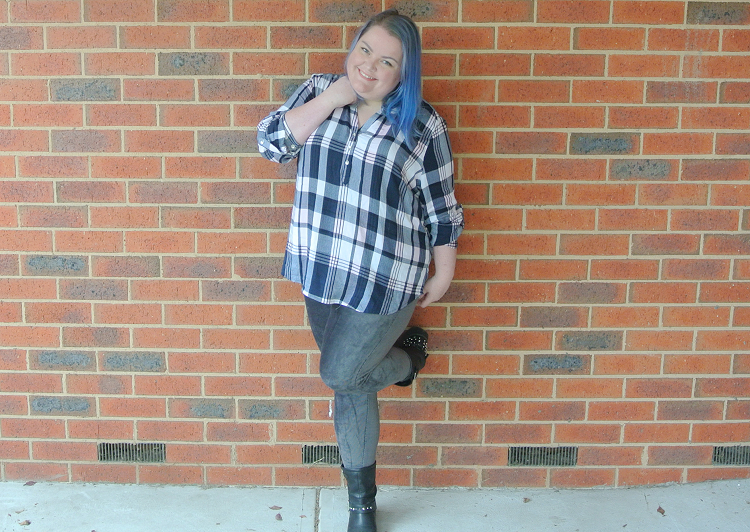 Plus Size Outfit – Drawn to grey.
I'm back home in Melbourne and need to get back into the swing of everyday life again. It was great seeing family in Sydney and staying with my parents & their doggos. It's good to be home though.
All the clothes i'm wearing I picked up in Sydney! I did a bit of shopping & had a bit of trouble fitting everything in my suitcase. I'm so in love with grey at the moment, I seem to picking up grey coloured items all the time lately.
I had to pick up groceries today and was excited I got to wear my new jacket, it's COLD here in Melbourne! This jacket is so soft and made from a suede like material.  I was actually surprised it fit as I don't usually try items from Rockmans. It was on sale for $50, down from $100. I love a good sale!
This top was love at first sight, even if it's not something I would normally be drawn too. I just adored the colour combo of the navy blue and light pink. It is a stretchy light fabric that feels like you're wearing pyjamas. The pants/leggings are a stretchy cord and I adored them so much I bought them in a navy blue. In case you can't tell, I'm all about comfy clothes at the moment.
I have soooo many pins and I always forget to wear them, so when my kitty vibe pin arrived I moved all my pins to a more visible location on my dresser. I thought it went well with my 'Babe with the power' pin and the pinks made the colours in my top stand out a bit more.
Jacket –

Rockmans (18) ||

Shirt –

Suzanne Grae 

(20)

 

||

Pants –

Millers 


Boots –

Betts

||

Babe with the power pin –

Sugarbones

||

Kitty Vibe Pin

– Ohyoufox
Have you been drawn to a new colour lately?