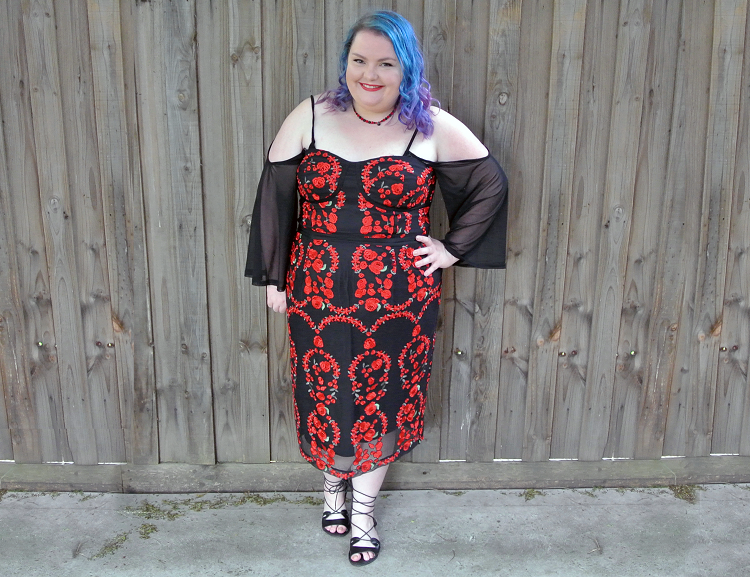 Outfit – City Chic Rose Dress (again)
I think you'll be seeing a bit of this dress, due to the fact that it is PERFECT. I am so in love with the rose print and embroidery trend, so this dress ticks all the boxes! Last Thursday night, I went to the Adam Brand concert (which you can read about here) and this is what I was planning on wearing. If you look at the pictures from the night, you may notice, I've changed a few things.
Do you ever have those times when you have something on and love it, but right before you head out the door, you think 'NO, I need to change something'. This happened to me. I also remembered that Mallory had glow sticks and I wanted them to show on my wrists. I changed this top to a City Chic Bolero, took off the necklace and changed from the sandals to heels. Why I chose heels over flats, I have no idea. I also went for a darker shade of lipstick. I took these photos a little earlier before I left to make sure I had good lighting but it just shows how you can change an outfit but simply swapping out a few key pieces.
I love layering things under dresses. I don't believe you have to wear a jacket of bolero over things, simply insert a top. Anything from high neck to something with statement sleeves can change the whole look. I wanted something to cover my arms up a little and this top worked wonders!
Eyeshadow – Mermaid Salon Treasure Chest Palette & Australis Metallix in Gold Gaga || Eyeliner – Too Faced Sketch Marker || Eyelashes – Essence 3/4 lashes and Ciate Wonderwand Mascara || Lipstick – An old Revlon one.
Top (worn underneath) –

Missguided ||

Dress – c/o

City Chic ||

Necklace –

Gift ||

Shoes –

ASOS
Have you layered things UNDER dresses? What do you think of it?