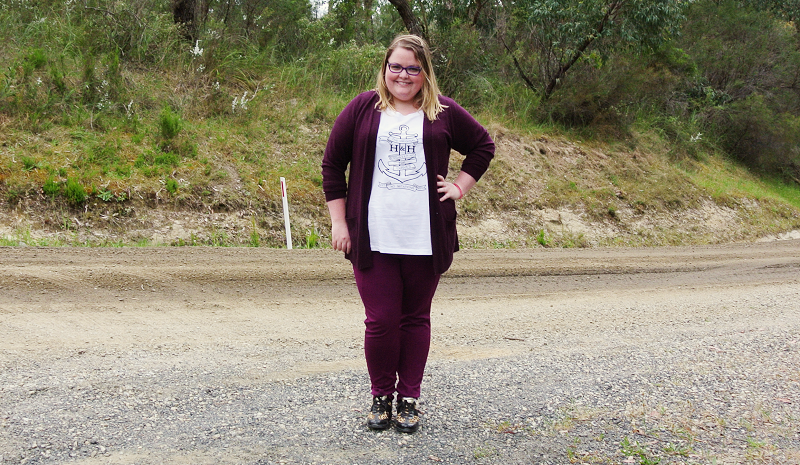 Outfit of the Day at a dog festival!
Next month marks a whole year since Mr Frodo passed away. A whole year! It's hard to believe. I miss him everyday. This is also the longest time I've ever gone without having a dog. It's been a bit of a learning experience! I've finally at a place where I could accept another dog in my life, but sadly, it's not really an option as I'm renting. I'm hoping a little down the track if we get on well with our landlords it may be something that will happen. In the meantime, I'm just finding love from any dog I find!
Top – c/o Hope & Harvest | Pants – Suzanne Grae | Cardi – Suzanne Grae | Sneakers – Florsheim c/o Westfield
On Saturday, I ventured off into unknown areas (to me) of Melbourne, to go to a dog show of my 'dream dog breed'. First up though, the outfit. I knew it was going to be a bit of a trek, a bus, then train, and taxi to a Scout Camp in Harkaway. I wanted something comfy. I'm SUPER fussy when it comes to tees, I'm not a tees & jeans kind of girl, but I am LOVING this Hope & Harvest tee. It has a great neckline, it's a good length and its comfy. Tick. Tick. Tick. Oh, it's also a Melbourne brand! I paired it with pants, cardi and sneakers for maximum comfort.
This, my lovely readers, are some gorgeous examples of an Anatolian Shepherd! The dog on the top of my list of what I want. I know, I know, you may be thinking "WTF!? Mr Frodo was super tiny and now you want a miniture horse!?". Uh, yep! I've ALWAYS loved big dogs, up until the last year my dream dogs were a Great Dane or Saint Bernard, but I also knew that they had their downfalls (breed standards mean a lot of health issues, and both dogs tend to be super slobber monsters)
This is Bear and I fell in love with him. He was a rescue and just the sweetest lovable giant. Though he likes to lean on you and wowza, he's strong!  Anatolians are still quite 'new' to Australia, they don't have a HUGE population here. They are a livestock guardian dog, originating in Turkey.
They are a breed i've been researching for a year now, and getting the chance to attend a day that was just all about this breed was AMAZING. I was in love with the breed before even meeting them, just from reading about them and interacting with owners of the breed, but to meet and see them in person, well, I'm 100% certain that this is a breed I would love to share my life with (eventually!).
I had such a wonderful day, and it was totally worth the 3 hour public transport trip!! I took a few more photos on the day, if you want to check them out, you can see them HERE.
Do you have a favourite dog breed?
I also want to say, while I do love specific dog breeds, I love ALL dogs in general. I am a dog person. None of my previous dogs have ever been bought due to what breed they were, it was just the feeling they gave me. I fully believe in adopting rescue dogs, and given the chance, I would. My parents have rescue dogs, Tonka is a rescue cat. However, the chance of a rescue Anatolian is slim. I have done mega research on breeders here in Australia, and the breeder I'm hoping to go with is nothing short of amazing to her dogs.