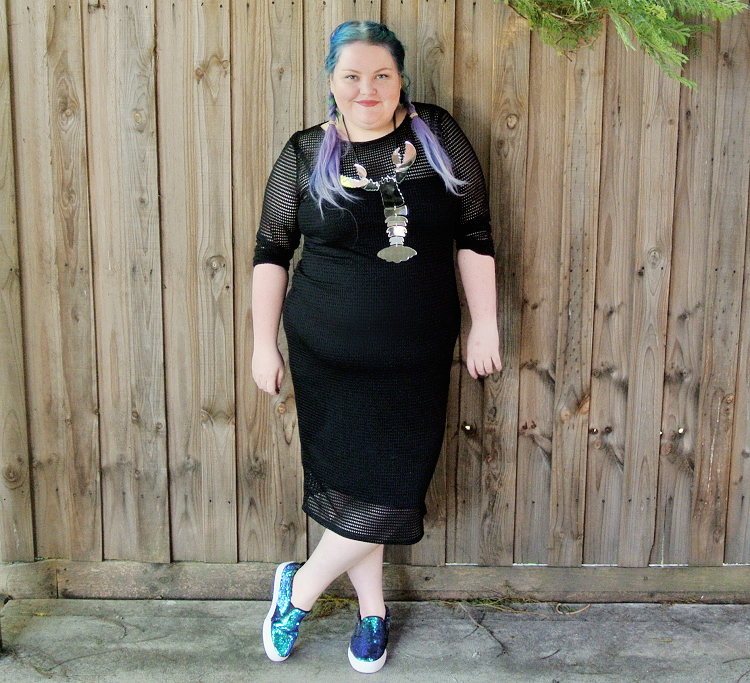 River Island Plus – Everyday black dress.
When River Island announced it was launching a plus size section, I was super excited. I'd seen many straight sized bloggers I follow wear their clothing and I always noticed it was on trend and reasonably priced. I had my fingers crossed that this would also pass over to their plus line, and I'm happy to say, it has!
When I first spied this dress, it was love at first sight. I was a little sure about ordering it as I don't often wear bodycon, but I threw caution to the wind, and I'm glad I did. As you can see, in bright light it does show off a little VBO, but i'm okay with that. I'm also not wearing any shapewear, so if VBO is a concern to you, you can try that if it makes you more comfortable.
I decided to try and 'dress down' this dress and have shown you how I would wear it as an everyday item. Of course, you could dress it up for a night out, but I kind of like it with the sneakers and statement necklace. You could even throw on a Bomber Jacket for an even more street style look.
The quality of the dress is amazing, the inner layer is connected to the dress by small ties, and the outer mesh layer is thick and sturdy. I think it's well worth the $70au. Shipping is $2o, so I'd recommend you buy a few things at once or share an order with a friend.
Have you picked up anything from River Island yet?
This dress was gifted to me by River Island. All thoughts are my own.