Maleny Botanic Gardens & Bird World
Craig and I had been talking about visiting Maleny Botanic Gardens and Bird World for ages & last year, on Mothers Day, we finally made it. Now, my Mum had just passed away and I wanted to keep myself occupied on the day. I didn't really think ahead to just how packed it would be due to it being Mothers Day. Apparently, it's one of the busiest days days of the year! Saying that, it wasn't crazy packed. We still easily got seating for lunch, had no problems with parking and was fine signing up for the bird tour.
We walked around the gardens a bit, they were gorgeous, as were the views. At this time, I'd only been living in Queensland around 6 months and it was eye opening to look at the un-interupted views of the Sunshine Coast. It is truly such a beautiful area! The gardens are set on a hill and can be a bit of a steep walk. Walking back up had my thighs burning. If need be, you can hire a buggy starting at $39. The gardens are also dog friendly, so it was fun seeing all the doggos enjoying natures.
The main area Craig and I were both excited about was Bird World. I remember talking to Mum about it before she passed. She was scared of birds and thought it sounded like hell. I however, love most animals and birds fascinate me. Craig is a huge bird lover and has had many over the years. We now have an Indian Ringneck of our own!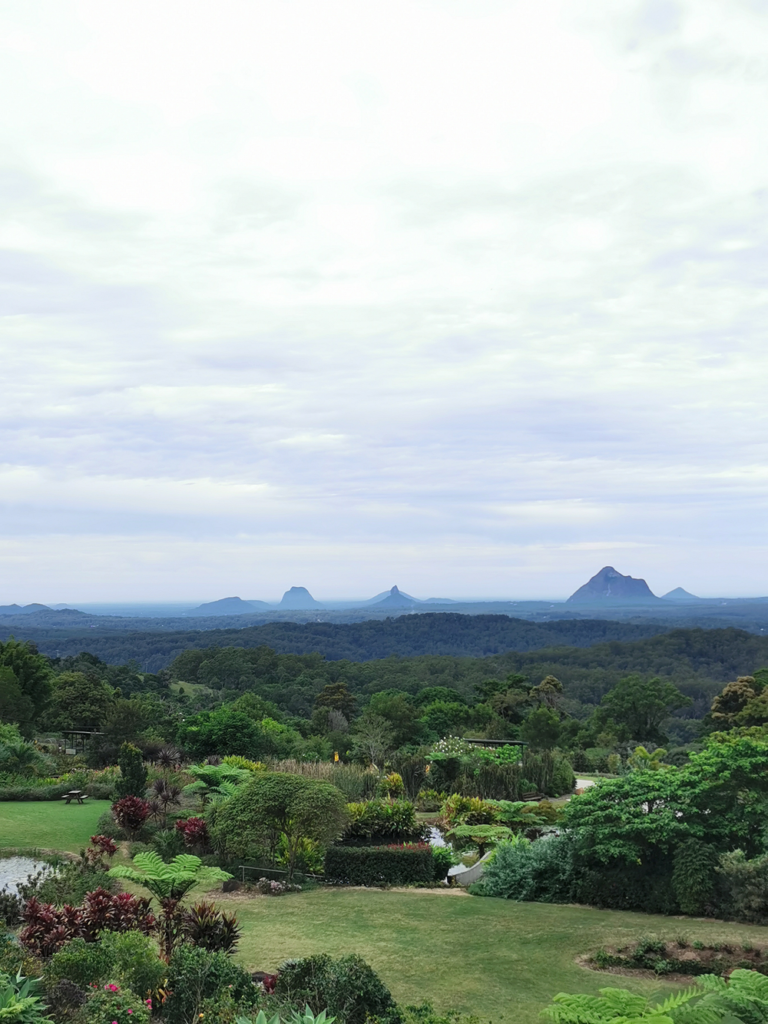 The tour was amazing. You walk through 4 huge avaries and lasts for around an hour. During the tour you learn a bit about the species of birds in there and well as some of the specific birds and their personalities. A lot of the birds here have been surrended to the avery after being inherited or not being able to be looked after properly. They now live out there life being looked after. All bird interaction is up to the bird and many of them are very friendly!
Up near the gift shop area you can get pictures taken with the well trained and friendly birds. The african grey parott really loved my glasses! 
We live further away now, but I'm looking forward to going back again someday!
Maleny Botanic Gardens & Bird World 
Address: 233 Maleny-Stanley River Road, Maleny.
Open every day except Christmas Day.
COST
Gardens Only $5 (Child aged 3 to 14)
Gardens Only $18 (Adult)
Gardens Only $15 (Senior / Concession)
Gardens and Aviary $20 (Child aged 3 to 14)
Gardens and Aviary $35 (Senior / Concession / Student)
Gardens and Aviary $39 (Adult)
Are you a bird lover? Would you happily walk through an avery filled with them?