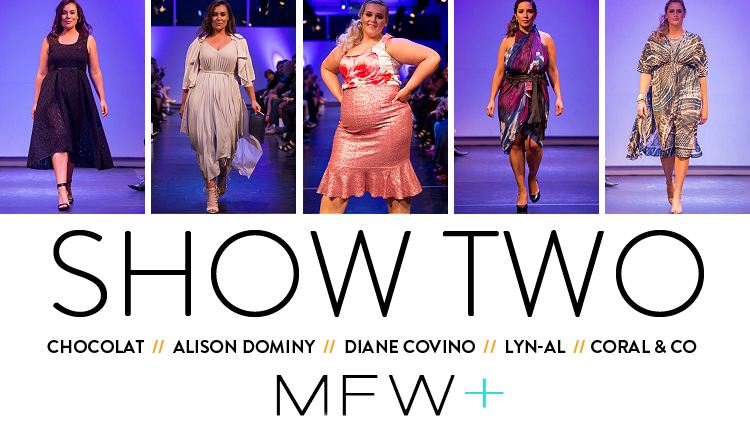 Melbourne Fashion Week Plus – Show Two
Saturday was the major runway day for Melbourne Fashion Week Plus with two shows going on that night. I've split the posts up into each show as to not overwhelm you with all the pretty items!
Chocolat

Chocolat, a New Zealand brand had a few pieces I loved and could easily see incorporated into my wardrobe. They had a great range of prints, textures and interesting shapes, but a rather slim colour palette. Looking on their site though, they have more coloured options. They have a lot of layering options, which is something I've loved since moving to Melbourne! Find them on Facebook, Instagram and you can see a list of their stockists HERE.

Alison Dominy Designs

So, Alison Dominy was quite a surprise for me! I hadn't heard of the brand before, and after meeting her on the Tuesday night panel, I was excited to see her stuff. Think luxe fabrics with perfect cuts and draping. Normally I can be a bit "Eh" about draping, but this is done SO right! Most items would work fabulously as work day to night out. (Though I guess it depends on where you work).  Find more on Instagram, facebook and her site.
Diane Covino

If you have a fancy event to go to, be sure to check out Diane Covino! Made in Victoria, her selection that went down the runway was a mix of colours, patterns and sequins that made my heart jump for joy! The sequined mermaid skirt was by far my favourite! I wish I had more events that I could rock some of these items to! Find her on Instagram, Facebook & her website.

Lyn-Al
Lyn-Al is an Indigenous Australian fashion designer from Melbourne who gains inspiration from her heritage. Every piece is a one-off design on hand painted high-quality silk. I found the two pieces below breathtaking and wait until I share the video I have of the dress on the right. Find more info on Lyn-Al on Facebook, Instagram or her website.
Coral and Co Australia
Coral & Co is allll about Resort wear. Think Camilla for curves! The colours were super gorgeous, which is something I love in kaftans. I also liked the more dressy looks which would work well for everyday looks! I wish I knew about these guys when I went to Aitutaki! Find them on their site, facebook & Instagram.
Sadly, a lot of my photos didn't turn out very good, so for these posts, I've used photos by the event photographer Jessie Obialor. I will be posting the photos I took to a facebook album later in the week.
Which outfit is your favourite?