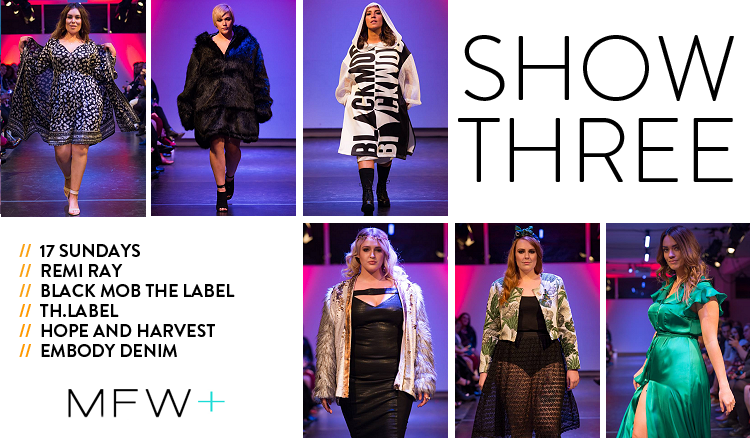 Melbourne Fashion Week Plus – Show Three
This post is a little longer than the previous posts, and not because there was an extra label, but because this was my favourite show of Melbourne Fashion Week Plus. It was chock-a-block full of FANTASTIC pieces that seriously had me questioning my heart's health after all it's missed beats. So yes, I gush a little and profess my undying love for some items!
17 Sundays

17 Sundays was a hit, which I expected and it was hard for me to choose just 4 photos to showcase. 17 Sundays is a Melbourne brand launched in 2010 who carry an amazing range of denim, everyday wear and cute dresses. Their clothing and styling always reflects this effortless cool vibe I wish I could re-create! They now offer AfterPay, so I think that arrow dress below has my name on it! Check out their website HERE, as well as their facebook and Instagram.

Remi Ray
Remi Ray is a cutting-edge British womenswear plus-size fashion brand that had me going "daaaamn gurl YASSS". The moment that black faux fur jacket came down the runway I knew it was love. LOVE. Aside from that show/heart stopper, the Remi Ray collection showed off some seriously sexy dresses and an awesome tunic/pants co-ord! They just launched their new site HERE, and you can follow them on Facebook & Instagram.

Black Mob The Label
So, if you read my blog, you know I'm not really a streetwear kind of person, but something about this collection just called to me. In fact, it was one of the first runway photo/video I shared to my Instagram. I'm not sure if it was the cuts, the monochrome, the fabric choices, the typography, or all of them rolled into one, but it worked for me! I don't know if I could ever pull it off, but gosh I want the outfit on the left! Also, reading their "About" section made me respect them even more! Check out their site, facebook and Instagram.

th.label

Th.Label is the hard work and brainchild of Tegan Holloway, who showed an amazing collection and made me realise my lack of gold and matte sequins in my closet. Can you believe this is her graduate collection!? I mean, this is JUST the beginning and if I'm this excited now, I can't imagine how I will feel about any upcoming designs! Her pieces range from items you could easily wear every day, to work, a night out, all the way to a stunning structured gown. Not to mention the textures, sequins, feathery fur, and a crocodile-like leather look. All very on trend but timeless. Be sure to check out her site and follow on Instagram.

Hope And Harvest

Again, if you know me, you know I adore Hope & Harvest's designs. Last season I thought they couldn't top their awesome bird print, but I was wrong. As someone who dreams about owning their own house so they can wallpaper a room in the Beverly Hills Martinique wallpaper, you can imagine that the collections of amazing leaf prints in this collection made my heart race. Along with the leaf prints were some amazing floral prints and geometric designs, as well as some seriously awesome cape dresses! Visit their site, their store, their facebook and Instagram!

Embody Denim
Embody Denim have always been a brand i've eyed but never purchased from. One, I'm not really a denim person. Two, I don't really have the money. Three, I'm unsure if it will fit, as they only go to a size 22. That being said, they usually carry some great non-denim pieces I lust after (Their digi print dress has been on my wishlist for what seems like years). The flower jumpsuit is something I'm sure was plucked right of my dreams, and while i'm not usually a fan of emerald green, the number in the picture below was certainly one of my faves. It also felt sooo beautiful to touch. Embody Denim was launched in 2006 by the super talented Natalie Wakeling and grown from just denim to include pieces any business woman to model could wear. Visit their site here, their facebook and Instagram.
Sadly, a lot of my photos didn't turn out very good, so for these posts, I've used photos by the event photographer Jessie Obialor. I will be posting the photos I took to a facebook album later in the week.
Which outfit is your favourite?