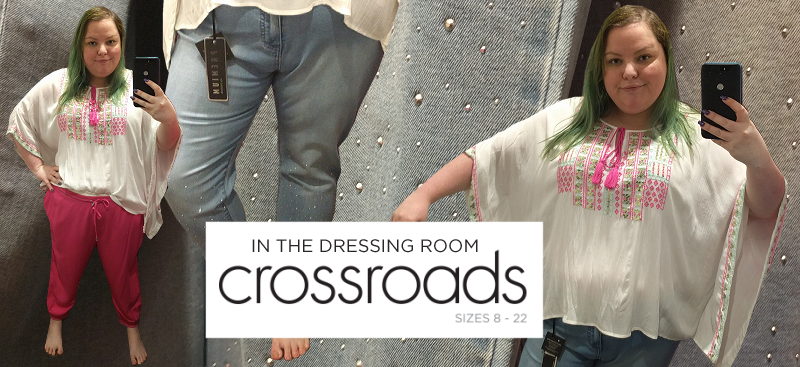 In the dressing room – Crossroads
Last week I ducked into Crossroads to try a few things on. Crossroads is one of those stores when one month I can find 10 things I love and the next only 1. There are currently a few things that i'm eyeing off, and a few things have been added to the site since I last went in that I now want to go try those on! So without further waffling on, here is what I tried on.
These jeans were the reason I wanted to go in store and try things on, I loved the look of the black pair online. Sadly, they didn't have the black pair in store so I tried on the faded blue. I love the detail of the hem, but not so much at the amount of bunching at the crouch. These were a size 20 and I think the 18 may have fitted better in some areas, they would have been too tight in others. They were super comfy though.
Shimmer Stud Jean – $59.95 – Size 20 – Also in Black
The top, oh how I love this top! It's oversized, it's so comfortable, it's got gorgeous embroidery but it's white. Now, don't get me wrong, I do like white, but I am such a clutz that it never stays white for long. Usually, I end up spilling something on my white clothes, can never get it out and end up having to say goodbye to said once white item.
Florida Kimono – $59.95 – Size L/XL
These pants were a winner! I'm hoping to pick them up when I have some money, maybe afterpay. I think they'd be great for my Hong Kong trip. They are light, airy and so comfy! Also, they have pockets. They come in black too, but the pink is totally me! These are the 22, but i'd buy the size down.
Elasticated Crop Jogger – $39.95 – Size 22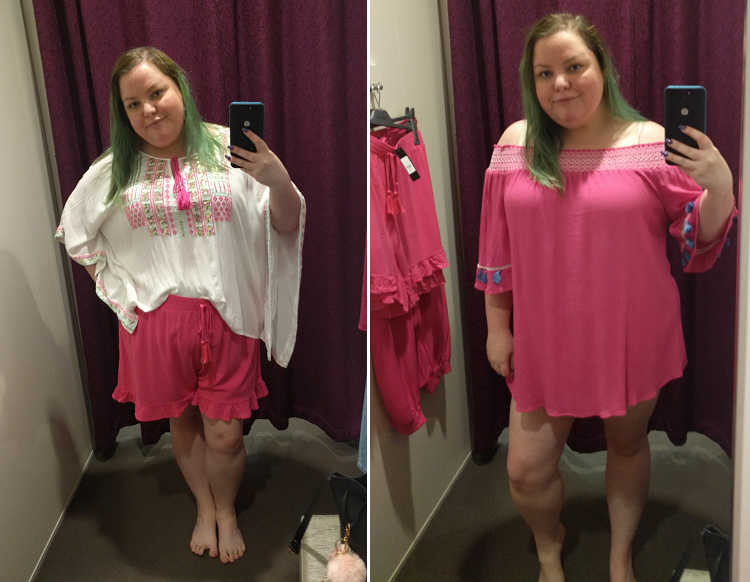 The shorts were super cute and comfy but reminded me too much of pyjamas. I would totally rock them over a swimsuit though. These were a size 22 but were very big on me, could have easily gone the 20. The off the shoulder top was beautiful but I've put myself on a ban of buying any off the shoulder things. Sorry about the no pants with that one. Can you tell I am loving the pink colour they have in store at the moment? It's such a vibrant beautiful colour.
Frill Tie Short – $29.95 – Size 22
Tassel Sleeve Top – $49.95 – Size 20
What would you pick?