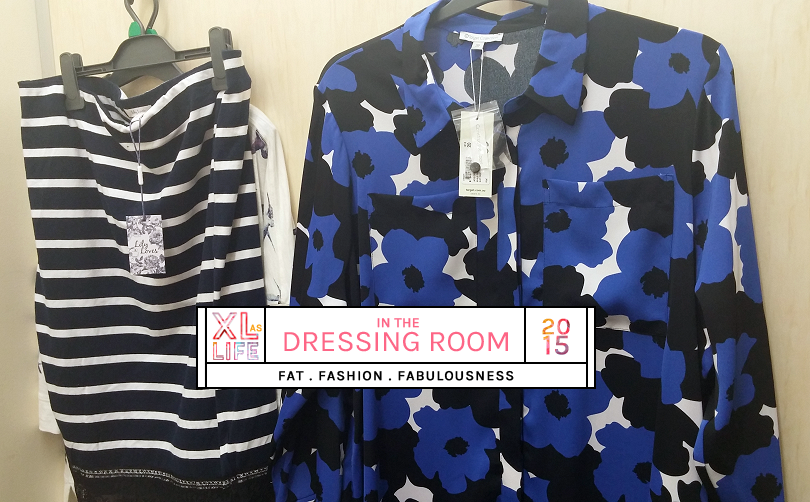 In the dressing room – Target (again!)
Incase you're wondering why my 'in the dressing room' posts have all been from Target lately, it's because my anxiety has been mucking up & i've pretty much been a homebody. When I do press myself to go out, it's usually my local shopping center, which has a Target, and a few others stores, but the things that have caught my eye have been from Target.
I really love the grey version of this skirt, but they didn't have it in my size, so I tried the striped one. I really love the lace at the bottom, it just seems so feminine. This was a navy blue which makes me think nautical! I didn't quite like how the stripes emphasized my VBO though.
This top, ohhh, it's soooo pretty! I love any kind of animals on clothing and the colours in this are really pretty. It would be great for in between weather. It's very lightweight (as you can see the stripes from the skirt through it), but so comfy as it's 100% cotton.
I loved this oversized dress too, but I think it looks (and feels) a bit like pjamas on me! It's a very thick material and certainly oversized. The colours are vibrant and it has POCKETS!
NOTE: These items are all from the straight sized line, and stop at a size 20. I tried them all on in a size 20. The oversized dress could fit a bigger size as it's quite generous.
The Belle Curve had a bit of a cool range, but nothing that really gripped me. I liked the maxi skirt on the right (picture below), but I don't often wear maxi skirts. Also, lots of chambray!

Which would you pick out of the 3 I tried on?