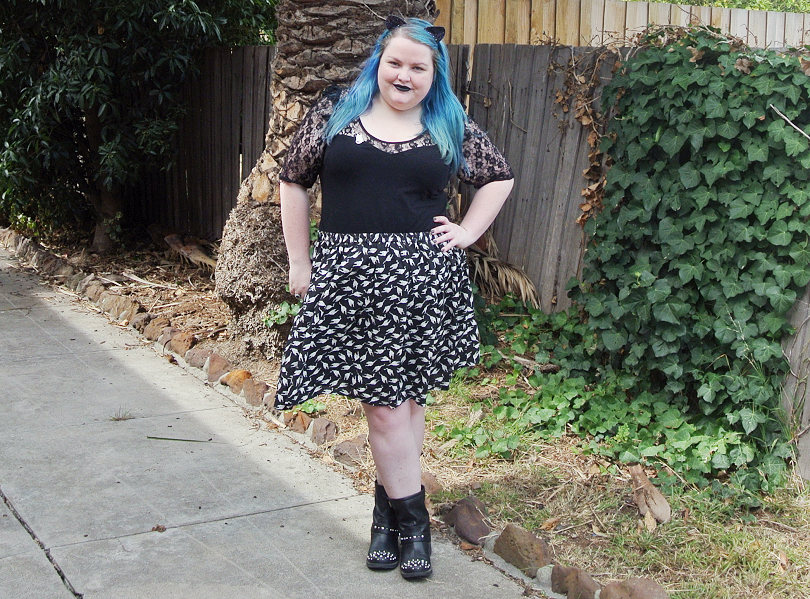 Outfit – Monochrome Kitty
Can you see something different? NO CAM BOOT! Yep, I went to the orthopedic surgeon on Tuesday, and he's happy with the way my foot is healing and told me he hopes to never see me again! Phew! It's so nice to not have to wear the cam boot, but weird trying to walk again. My ankle has been immobile for 8 weeks, so it feels so strange to be able to move it around.
Today, I went out for the first time sans boot and golly, it really is so much easier to get around without a big hulking boot. The surgeon said to wear boots or sneakers for a few weeks at least to give it some added support. Honestly, that's not tough as I wear these boots pretty much all the time anyway. These are actually the 2nd pair of this style as my other pair died from over use.
The weather in Melbourne, is well, Melbourne like! Can't make up it's mind. It was warm, and quite humid for Melbourne so I went with the comfort of a light skirt, and 3/4 sleeved top. I love this top cause it covers my arms (still a part of myself I struggle with), whilst protecting me from the sun, but also being cool as the lace lets air through.
What are your thoughts on black lipstick?