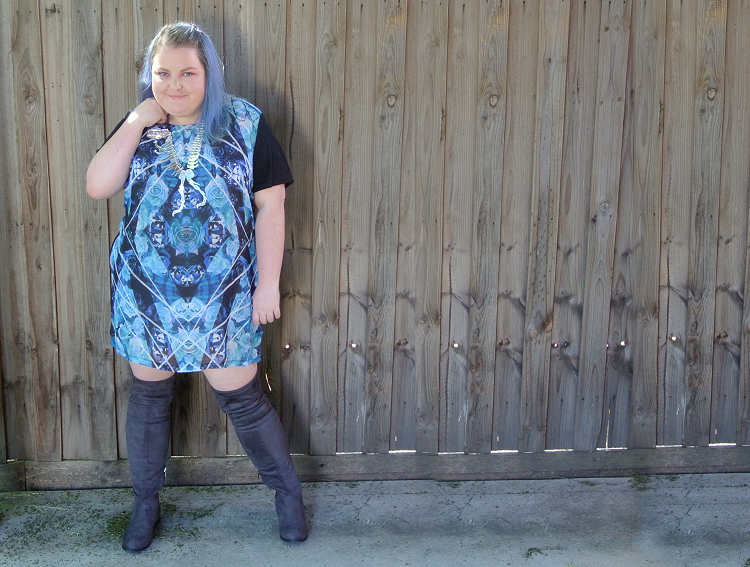 Outfit – Finally, grey thigh high boots!
I love shoes, LOVE them. They are one of my weakness, I have around 100 pairs and I always have more on my wishlist. One of my weaknesses are boots, but being fat and having chubby legs often means I don't fit boots. Luckily there are companies and stores these days that do cater to wide width. I guess this is also when my smaller-fat-privilege comes in, that I can sometimes find boots to fit me in everyday stores.
When I spotted these boots on the shelves at Spendless, I didn't think they would fit. After pulling them down, I decided to give them a try and WAHEY! They fit! Just. I should say, that they are stretched to capacity on my calves. These boots come in black, but I only had eyes for the grey. Grey is my current favourite colour in case you hadn't picked up on that already.
I love this dress/tunic from Kmart, I often pair it with leggings, but it hits the perfect length to show off these boots. I blinged it up with my dinosaur necklace. I'm trying to wear more jewellery and accessories later. I find I pick so many things up on sale, but forget to wear them.
I'm also in this funk with my hair, I don't know what to do with it. My roots are in desperate need of a bleach and I still like the blue, but I'm also eyeing some of the new Lime Crime shades, I just don't know which colour I like best. Which colour do you think?
How many pairs of shoes do you own?