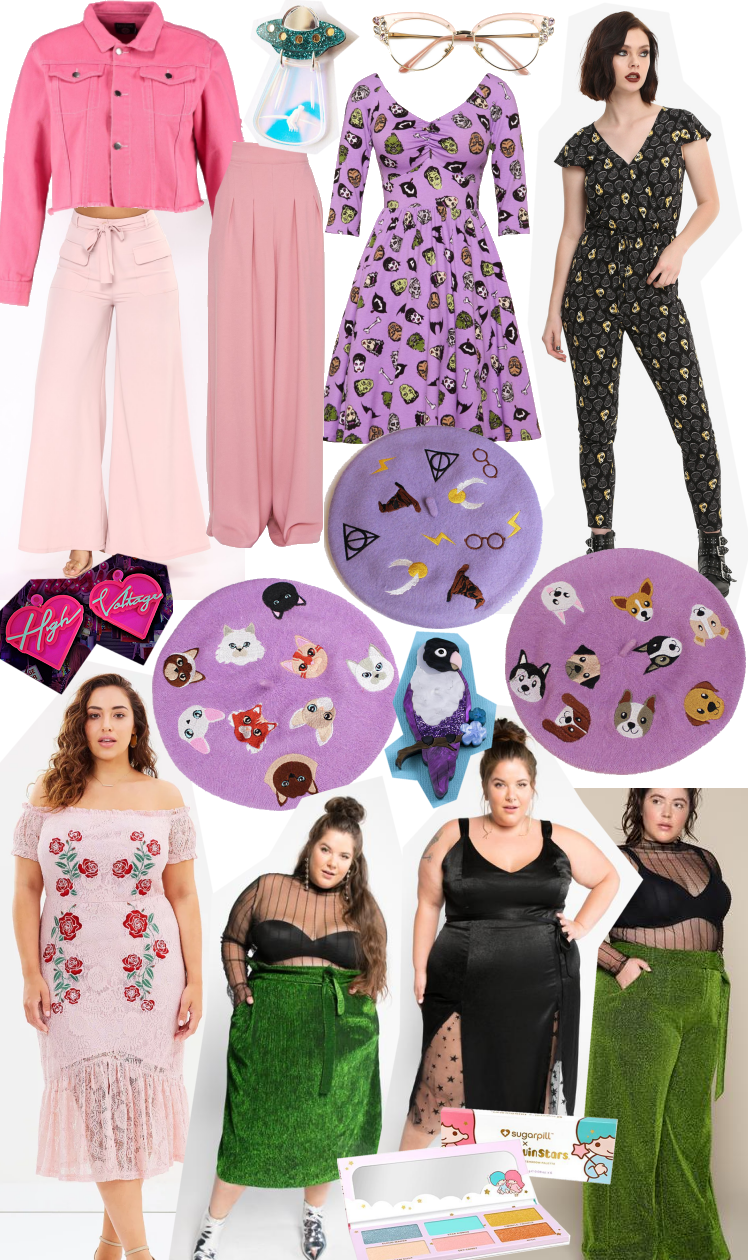 It's been awhile since my last lustlist, so I though I should put together a mighty collection of things I've been eyeing lately!
Boohoo – Keira Cropped Denim Trucker Jacket – $60 au || I love cropped jackets and this is the PERFECT pink! I can just imagine covering it with all my patches. I have THIS 'babe with the power' patch that would look EPIC on it!
Oddspark – UFO Brooch in Teal Glitter Acrylic – AU$32.00 || I desperately wanted these in their earring form, but i'd take the brooch too!
Where Light – Moana Glasses – $28.95 US || I wear glasses, which you don't see here often, but I do. I've never ordered from this site, so can't give you any info on if they're quality, but they are just so pretty! It's in need of updating, but you can see most of my glasses collection HERE.
Fashion Nova – Shayni Woven Pants in Blush Pink – $32.99 USD || I'm wanting pink pants. ALL the pink pants. I am actually dreaming of some plus size company making a pair of pink camo pants, please make it happen. For the moment, I'm eyeing these beauties.
Pin Up Girl Clothing – Doris Pants in Crepe – $128 USD || These are the dream pants. I have no idea how they'd suit my shape though. Every time I see Suzie in them I get all heart-eyed.
Pin Up Girl Clothing  – Kayla Swing Dress in Purple Monster Print – $148.00 us || I actually have this print in a different style and colourway (See here) but I could really see myself incorporating this one into my everyday wardrobe.
Her Universe at Hot Topic – Star Wars BB-8 Jumpsuit – $49.90 US || Uh, its a BB-8 Jumpsuit! HOW CUTE!? I also basically want everything Porg too. Her Universe have some super cute Star Wars stuff!
Power & Stiletto – High Voltage Earrings – $45 || I basically want ALL of Power & Stilettos earrings. These 'Live Nudes' and 'Dancer' earrings are on my wishlist too!
Elleni the Label – Crazy Cat Lady – Wizard – Crazy Dog Lady – $50 AU || Alllll the berets, kthanx! Elleni the label has a whole selection of amazing hats and berets, but these 3 are of course the ones that really spoke to me!
Edenki Studio – Loretta the Lovebird Brooch – $35 || This has been on my wishlist for awhile, the colours are just breathtaking!
Atmos & Here Curvy at The Iconic – Elora Off-Shoulder Dress – $129.95 au || This dress would have been perfect for Valentines Day! It's so dreamy, it just makes me think of fancy dates. I don't really think I have anywhere to wear it, but whenever I say that I get told by friends to wear it cleaning the house, doing the shopping, anywhere!
Premme – Paperbag Pleat Skirt – $70US || As someone who used to only like lime green, i've been drawn to emerald greens more lately. This skirt is just SO pretty!
Premme – Luna Slip Dress – $89 US || This has actually already been featured in a lustlist, but I still really love it, so i'm sharing it again.
Premme – Jay Glitter Wide Leg Pant – $129 US || WANT WANT WANT! Sadly, the only reason I haven't had the chance to buy anything from Premme is due to currency conversion and shipping pricing.
Sugarpill x Little Twin Stars – Eyeshadow palette – US STORE – AU STORE || I loooove Sugarpill, I've been following Amy/Shrinkle from back in the day when she sold Kryolan and such on ebay! Yep, a long time! This eyeshadow palette just looks so pretty. As does the lipsticks too!
What is on your lustlist at the moment?