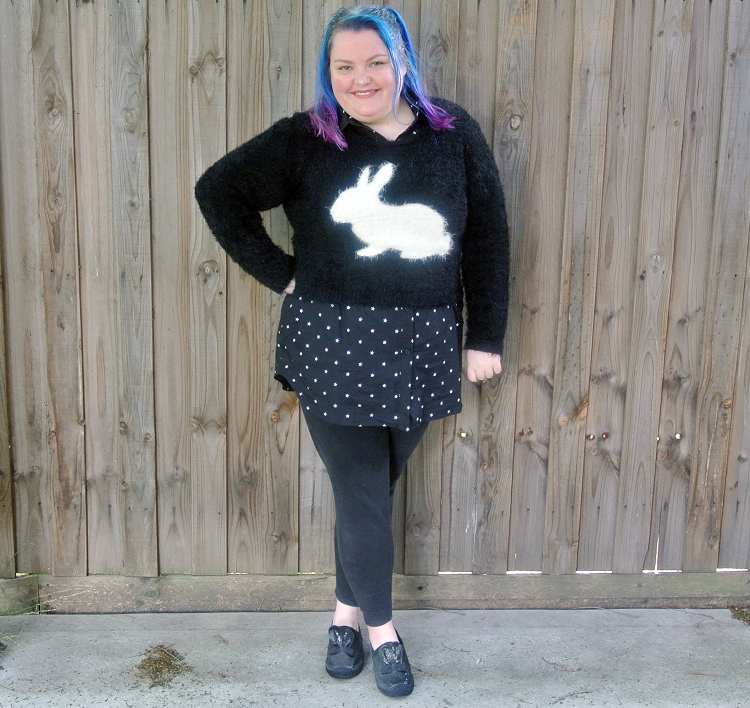 Outfit – Happy Easter! Bunnies and Stars.
First up, Happy Easter to those who celebrate it! For those who don't and are in Australia, happy long weekend! I personally don't celebrate Easter now that I am older. While I am not religious, I still enjoy getting into the spirit of a lot of holidays, and I guess the whole Easter Bunny aspect influenced this outfit.
Animals are amazing, you probably know by now I adore animals more than most humans. That certainly goes for rabbits. I've had many pet rabbits over the years and would love to have one again in the future. I've always wanted a giant breed.
This cropped jumper is one of my favourites because it's so comfortable. As I've mentioned, I've been all about comfort as of late and this outfit shows it. Oversized shirt, leggings as pants, comfy jumper. Ticks all the comfy boxes.
I had to pull out my bunny shoes to match. When I bought them, they came in a variety of colours and I'm glad I went with the black. While they have bunny ears and are super glittery, the black tones them down a bit.
Have you ever had a rabbit as a pet? I'd love to hear about them!