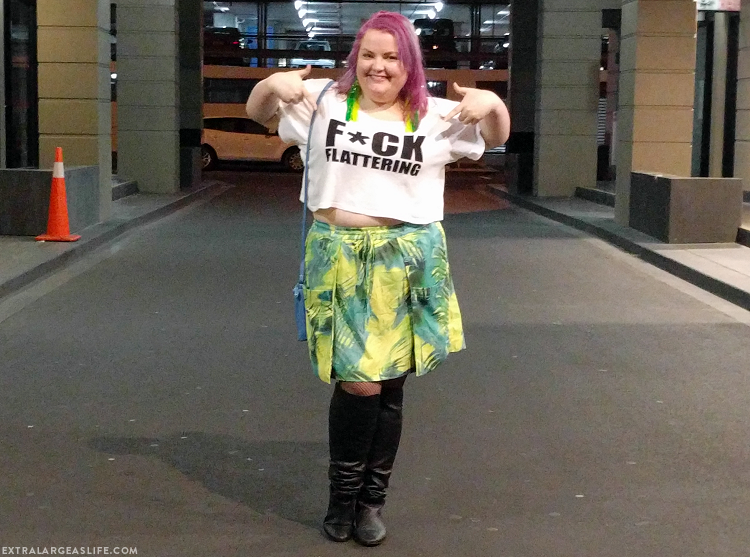 Sunday Melbourne Fashion Week Plus OOTD!
Finally sharing my last outfit from Melbourne Fashion Week Plus! I know, it's been a while, but I wanted to showcase everything I wore. I really love having an excuse to dress up and go out, as I live a pretty boring life generally (if you hadn't noticed). While I do enjoy fashion and wearing fun clothes, these events I love just pushing my comfort zone and wearing things I might not wear to do the grocery shopping.
This was probably the outfit I felt least confident in, don't get me wrong, I love it, it was comfortable and I got compliments on it, but I think by Sunday I was tired and would have much preferred to wear pyjamas! I am glad I got to rock my 'F*ck Flattering' top though.
I tried something a little different with my make up and went for a yellow/green eyeliner. Once I got into the show, I realised that both my eyeliner and earrings glowed under the lighting! You can kind of see that HERE.
Jess, Liv, Kobi, Myself and Rachel.
After the show was the after party, I wasn't planning on going, but ended up going and I'm glad I did. I had a lot of fun, but I got a tad bit drunk! I don't usually drink much, I may have like one glass of alcohol every 2-3 months, well, this weekend I drank more than I do in a year! The jugs at The Highlander Bar were so delicious! I think the Violet Smash was my fave.
Amy, Meagan and I
I really loved MFW+, I learned of some amazing new designers and caught up with old favourites. I got to hang out with my favourite Queensland ladies and met so many wonderful people I've known and admired online.
What is your favourite alcoholic beverage?