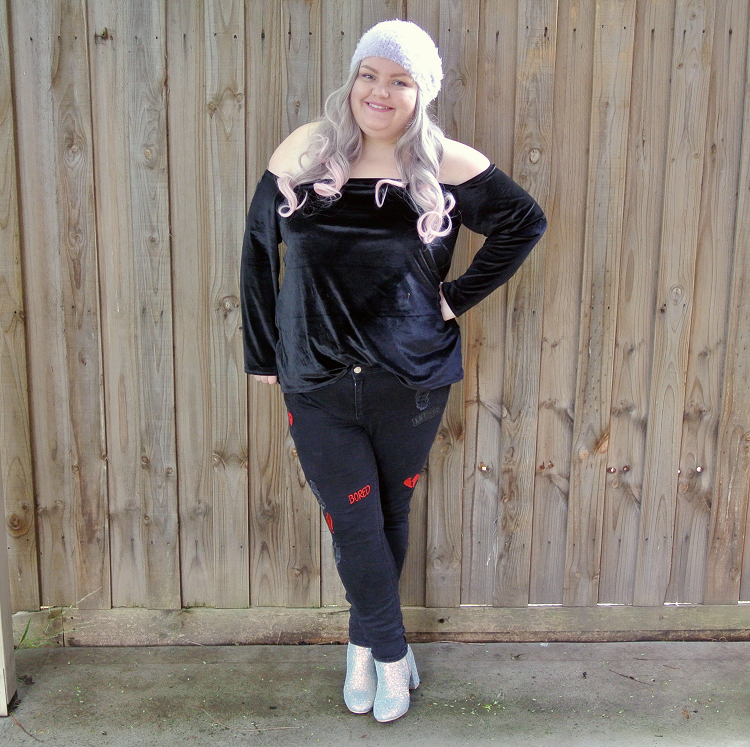 OOTD – Plus Size black velvet and denim.
It's crazy to believe how cold Melbourne has been the past few days. Technically it's still summer here, but I've had to turn the heater on! Not that I'm complaining, I much prefer the cold. Are you sick of me talking about the weather? I guess I'm still so confused by Melbourne weather that it's something I talk about often.
I'd been eyeing these jeans for ages, they even appeared several times on Lustlist posts. You know I really love something if it appears more than once on a lustlist post. When they went on sale I snapped them up in preparation for my next Tasmania trip.
The top was a spur of the moment decision, which I do no regret. I like to have a good selection of black tops, and this was different from any others I own. I picked it up on sale from Missguided and am really in love with it. It's super comfy and I love way it sits.
SIZING – I've only bought tailored pants from River Island previously and I sized up with those. For these, I went for a size 22 and they fit well. A little tight around the waistband, but after an hour they stretched out a little to be more comfortable. The legs are a skinny fit, which is a first for me, so if you have thick calves, beware of that. To me, these fit like an ASOS Ridley jean is a 20.
Top –

Missguided (22) || Jeans – River Island (22) || Shoes – ASOS || Beanie – Old from ASOS
I also have to remember that when I wear velvet, I should give it a going over with a lint roller before I leave the house. Otherwise, the velvet turns into cat-fur! Haha!
Do you prefer summer or winter?