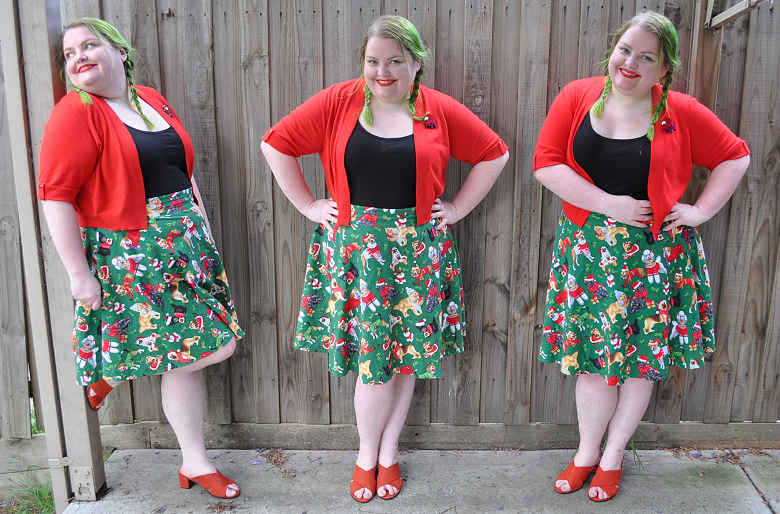 Outfit – Plus Size Christmas Doggo Skirt!
Seeing as it's Christmas time, I've dusted off my festive clothing and have enjoyed wearing them the past few weeks. I had to head out to the shops yesterday to pick up a few things but luckily remembered to take a few pictures when I got home.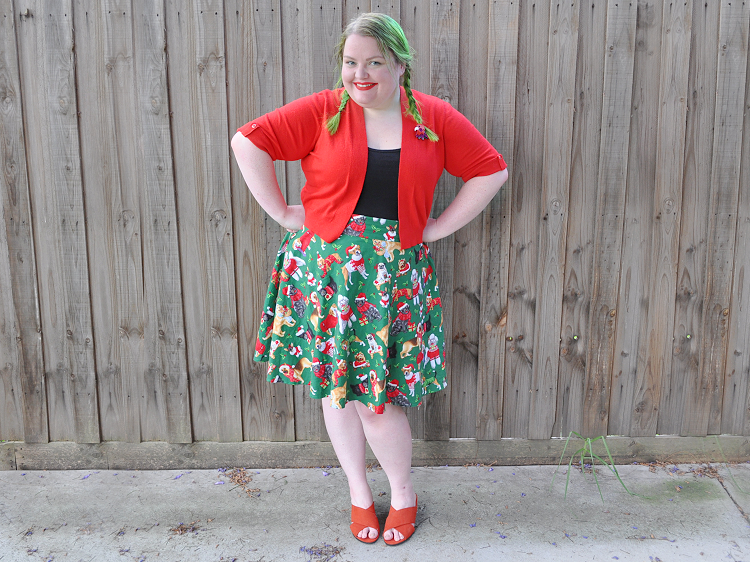 I got this skirt a few years ago from Modcloth and I count down the days til I can wear it. It's just SO cute and it gets a lot of compliments. Dogs is Christmas clothing. Perfect! They don't have a dog one this year, but they have a Christmas cat skirt and dress!
I paired it with a plain black singlet and this red cardigan. The skirt really is a show stopper so I wanted to keep the rest pretty simple. Though, that red lip is popping! It's Kat Von D Everlasting Liquid Lip in Santa Sangre!
Since I went green with my hair I've been adding a bit of red to my wardrobe. It's not a colour I would wear often when I had pink hair, but I've been really drawn to it lately. These shoes I picked up from Rivers when I was in Sydney in October. They are super comfy and a great heel height. They come in a few other colours, I've had to stop myself buying them in green.
I added my Kaiju Candy Rosella brooch just for a bit more colour and fun. Not wanting to wear earrings or a necklace, I love how a brooch can add that extra element to an outfit. I have so many brooches now, I've had to stop myself from buying more. #addicted.
Tada!
Do you have any festive clothing items?