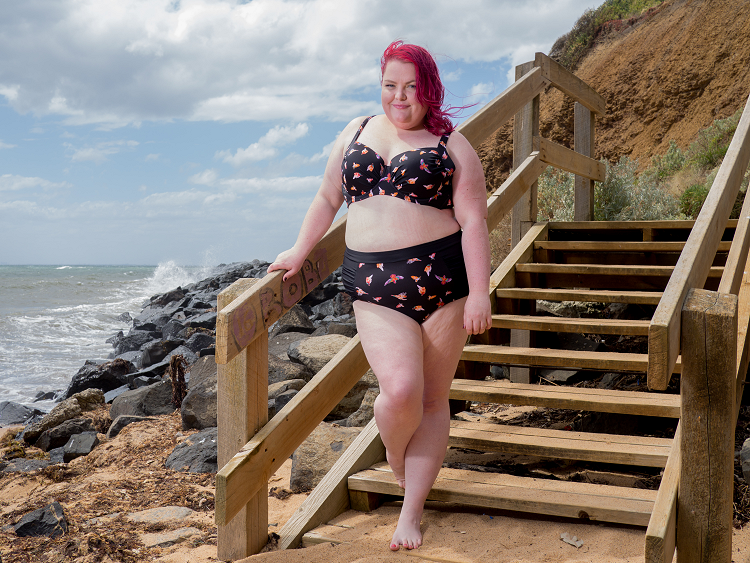 City Chic Bikini – Every body is a bikini body!
This post is a collaboration with Shopping links.
I don't know if I will ever get the hang of Melbourne weather. So far it's  been pretty cold for what I'm used to at this time of year. It's starting to warm up though and I know soon enough I will be complaining that it's too hot! I was gifted this City Chic bikini a few months ago and only found the weather nice enough recently to finally shoot it.
Now first up, YAY to City Chic for releasing bikinis! They have a few different options, but I was drawn to the colours in this bird print set. The top I went for in a 20c as that is about the size I wear (I am one of those super naughty ladies who hasn't been professionally fitted for a bra) and the fit is great around the chest but a little big in the cups. That is pretty normal for me as I have small boobs. The top has great support though as it has wire! It's basically a bra in swimsuit material.
The bottoms I went for a size 22 because I wanted them a bit spacious. They are super comfy and I love the way they sit. They don't sit as high on me as they do on the model on the CC site, but I still like that they are a higher waist.
It was a little bit scary at first rocking a bikini out at the beach, but it was also a hell of a lot of fun! I've worn a bikini before, but not out to a beach. I'm very much of the opinion that ALL bodies are bikini bodies, and that you can wear whatever YOU want to wear.
Top – Birdie Underwire Bikini Top (Size 20c ) || Bottoms – Birdie Bikini Brief (Size 22)
What is your favourite type of swimwear?
Photos by the amazing PurpleNebula Photography.