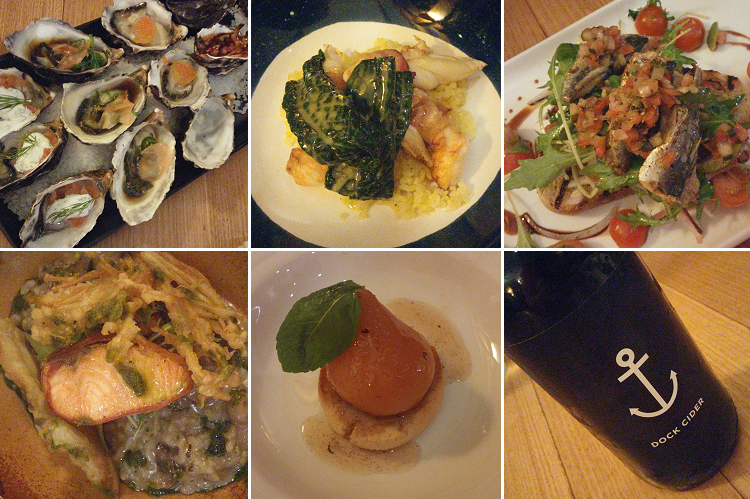 Top 3 places to eat in Hobart.
We didn't actually eat a main meal, because we were so full on all the other food we'd been eating, but golly the mains looked good! We had the polenta crusted duck & wasabi cheddar arancini balls with a spiced plum dipping sauce and Tempura Huon valley mushrooms with plum & ginger dipping sauce. Seriously, the best mushrooms i've had in ages. It was quite crowded but had a great vibe. We sat upstairs in front of a live fire with a masculine woodland library feel.
WHERE: 49 salamanca place, Hobart, Tas, 7000
I popped in here on the Sunday I arrived and picked up a mixed Entree. I'd never had Duck Puffs before, but they are delicious! We ordered again to eat in room, and wasn't disappointed. I am really fussy with my chinese food, and this went straight into #2 of my fave Chinese food EVER. The duck sang choy bao & lemon chicken were yummy! While we didn't eat in store, the resturant was beautiful and smelt delicious.
WHERE: Hobart Shop 1, 15 Hunter Street, Hobart 7000.
While the lower deck was great (hello Oyster Bar!), the upper deck was an experience to remember! Easily one of my top 3 dining expreiences EVER. This was fine dining!
Oysters – Vodka & Lime, Mures smoked ocean Trout & Caviar, Wakake, Kilpatrick.
Morton bay bugs, wrapped in honey bacon, Asian garlic salad, garlic, chilli & lime butter.
Grilled sardines, toasted bruschetta, tomato, basil & green olive salsa.
The main was a Salmon special, wrapped in prosciutto, with a mushroom risotto.
 Tasmanian poached pear.
Their house cider was amazing! It was like fireworks going off in my mouth! It's a bit on the pricey side, but SO worth it! So so so worth it!
WHERE: Victoria Dock, Hobart TAS, Australia