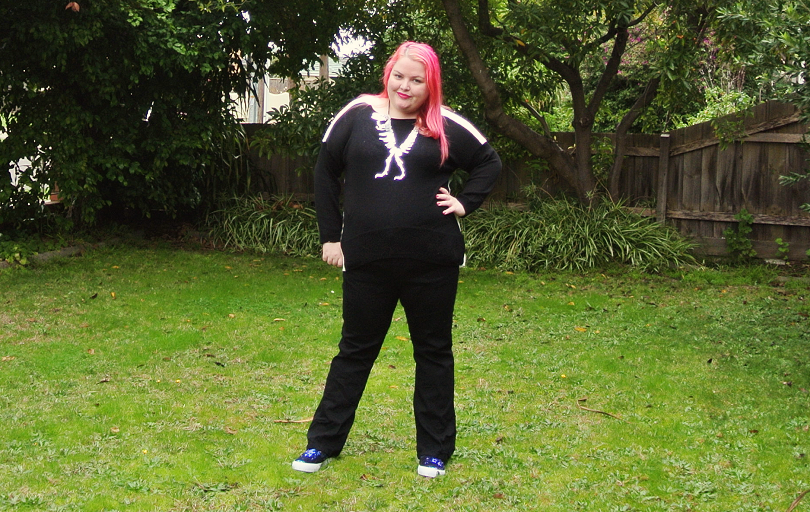 Outfit – Sparkling simplicity!
The thing I love about personal style, is that it can be whatever you want it to be. I love fashion, and I follow a lot of mainstream fashion, and some of that does influence my style, but I do seem to always be attracted to the same things.
I have been dressing a bit more simplier since moving to Melbourne, well, since it's gotten real cold. It's more about keeping warm, then looking fabulous. I'd never consider my style simple though, adding some accessories to sparkle up my outfit helps it feel more 'me'.
I went and watched Jurassic World yesterday, and OMG it was ah-may-zing! So of course I had to show off my love of dinosaurs.
I was sent this jumper from the Izabel team, and I love it, it's the prefect amount of slouch and warmth. The white back dips lower at the back  and helps break up all the black. I am loving monochrome outfits lately, and to think I would NEVER wear white 5 years ago!
These sneakers are so pretty! These pictures don't do them justice, check out the video here. They are true to size, but you do need to wear socks with them, as the sequins around the top scratch a little.
Jumper – c/o Izabel (Size 22) | Jeans – c/o Autograph (Size 18) | Necklace – similar from Tatty Devine | Shoes – ASOS
Have you seen Jurassic World yet?