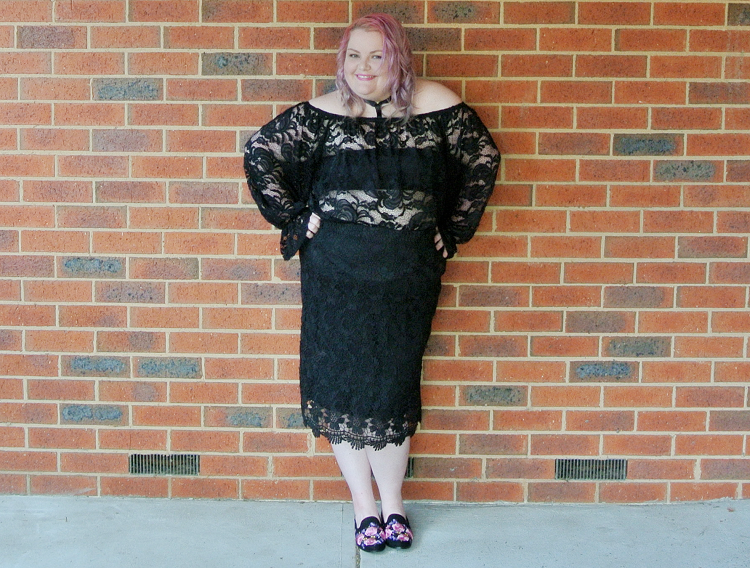 Outfit – Double Lace ft Boohoo & BeMe
Hi! My name is Natalie, sometimes I take my outfit pictures when I am bloated from my periods and forget to tuck my shirt in properly. Basically, I am human and quite un-perfect. Just trying to be real here! Some blogs are so picture perfect it looks like the images are straight from a magazine. Don't get me wrong, I love that, but that won't ever be me.
While I am being honest, I don't really like the whole "choker attached to outfit" trend that is going on atm. This was a spur of the second impulse buy because I do love the look of it. A day or two after I bought this they released a very similar top without the choker and I just sighed. I do adore this top though, and I think the fact it looks more like a harness is what made me buy it. I think in my head I could justify it as not being a choker.
How gorgeous is this skirt? When I was in Sydney recently I ducked into the BeMe store and picked up a few things. I wasn't originally going to get this skirt (I had a crochet cardigan and a kaftan/cover up) but they had a deal where if you spent a certain amount you got money off, and well, that money off went to buying this skirt! The skirt looks even better when your top is tucked in correctly and not making it bunch up.
I always forget to show my handbag in my outfit pictures, I need to put a sticky note on my camera to remind me. My current handbag I'm using 90% off the time is this Laura Jones bag from Strandbags, my parents bought it for me while we were on holidays. I just love the print (can you tell I'm loving florals?) and the mix of grey and pinks just make my soul happy.
Top – Boohoo (size 22) & similar w/o choker || Skirt – BeMe (size 20) || Shoes – ASOS (size 8)
Bandeau (worn underneath top) – Black Milk (size L) || Bag – Strandbags
The sleeves on the top are amazing! I just want all the flouncy and bell sleeves I can buy. Finding something for under this top was slightly challenging and I'm glad I remembered I had this bandeau. Nope, I'm not wearing a bra either. I think you could totally rock this with a strapless bra, I only have a nude and think that would have looked a bit strange. I also didn't want to ruin the OTS look with bra straps.
Any tips on how you would style this top?