2018 Nyx Face Awards Australia Grand Finale
On Saturday, I was lucky enough to attend the 2018 Nyx Face Awards Grand Finale (Thanks YasssMama.Hey). It was held at Melbourne's Luna Park, which I had never been to before. So, that was kind of exciting! I'd actually never been to St Kilda before! I've lived in Melbourne for around 4 years now and still have so much to explore!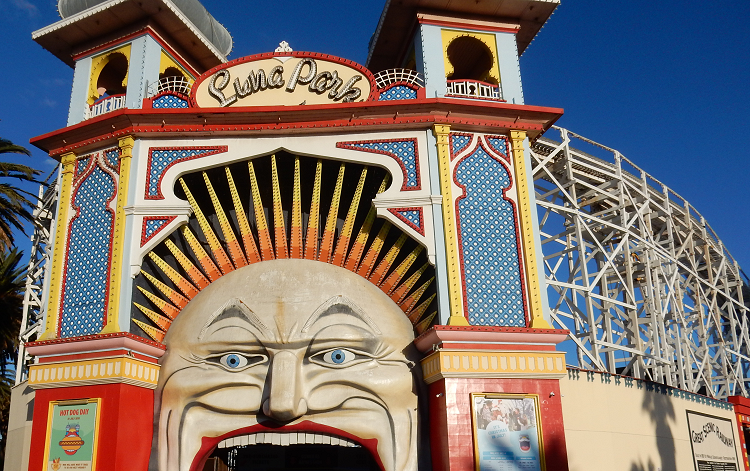 I sat outside people watching for a while whilst waiting for my friends to arrive. I apparently had a prime picture-taking position because I had around 6 people ask me to take their picture in front of the giant clown face. (Which, if you're like me, and afraid of clowns, is kind of creepy). I even had one lady ask to take my picture! I did have pretty OTT make up (which will be in another post, so keep an eye out).
Everyone got an amazing goodie bag, plus there was more free stuff around the venue. I plan to do a giveaway with some of mine because I had all the lipsticks from my goodie bag already. But I'm looking forward to playing with some of the other items. There were lots of photo opportunities too, which I didn't do, because I'm shy. True story.
The host of the evening was the amazing Art Simone, who despite being dressed as a clown I couldn't help but love.  The awards ceremony itself was good, it was amazing to see the looks the contestants came up with. SO. MUCH. TALENT. I was in awe! I don't know how the judges managed to choose the winner, they all were so different and fantastic.
Everyone looked amazing. I also recognised so many people. It's funny how shy and intimidated I can get, totally something I need to work on. There were a few people I would have loved to have gone and said hi to.
Be sure to head over to everyone's youtube accounts to see the amazing looks that got them to the final 6! Bonnie Corban SFX, Jabbas Makeup, Georgina Ryland, Pigeon Pie, RerMakeup and winner Courtney Hollins!
Also, here is a short but sweet little video of the evening!

Have you tried any Nyx products? Whats your fave?