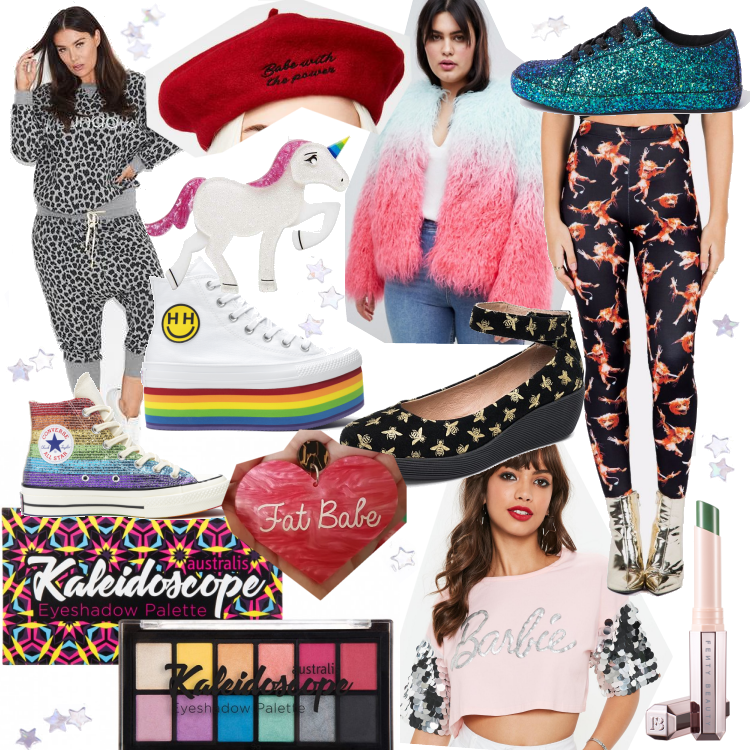 Lustlist – Belated Birthday Edition
With everything thats been going on, I didn't get a chance to post my usual Birthday lustlist. So, even though it's late, I decided I'd still post my Birthday wishlist!
17 Sundays – Harem Pant – $119.95 – & Sweat Top – $99.95 || This combo is AMAZING! You can rock either individually or together to make an ultimate statement outfit. I want this as my travelling outfit for when I go to Hong Kong! How comfortable, yet chic would I look!?
Dolls Kill – Local Heroes Babe with the power beret – $45.47 $36.37 || I love Labyrinth and I love berets! Whilst I don't think this is derectly a Labyrinth reference, more a girl power one, I still LOVE it!
Erstwilder – Ula the Unicorn – $39.95 || I have Ula in a different colourway, but I think I love this one even more!!
Converse/Miley Cyrus – Platform high top – $140 || Ugh, how perfect are these!? The rainbow platform! June is Pride month and a portion of sales of these shoes go to charity.
ASOS Curve – Mongolian Ombre Faux Fur Festival Jacket – $129.00 || How pretty is this? The colours, the faux fur!
Taking Shape – Ginger Bee Wedge – $179.95  $99.00 || I adore bees / bee print. and these shoes just look super comfortable! They are also a wide fit!
River Island – Green glitter lace-up trainers – $70.00 || Glitter sneakers. I repeat, glitter sneakers. 
Black Milk – Fireys HWMF Leggings – $85.00 || I wanted so much from the recent Black Milk Labyrinth collection, but alas, money. These are one of the few things I REALLY love that are still available. 
Fenty – Mattemoiselle Plush Matte Lipstick in Midnight Wasabi – $28 || I don't know why I want green lipstick so badly, I think maybe because it's a colour of lipstick I don't own. But I adore the colour of this and the formula is fantastic! I LOVE Fenty beauty so much.
Missguided – barbie pink glitter logo sequin sleeve t shirt – $36.00 || Barbie + sequins + crop =  perfection.
Australis – Kaleidoscope Eyeshadow Palette – $19.95 || After seeing swatches and eye looks done with this palette, it's hit top of my make up wishlist. Do I really need another make up palette, no, probably not, but this one does look amazing and at a great price!
Bubblecattdesigns – Fat Babe Earrings – $22 (Also a brooch for $12) || FAT BABE! Totally what I am! Plus you all know my love of statement earrings and brooches!
Converse/Miley Cyrus – All Star 70 high top – $140 || The other pair of Pride shoes I love! These ones i'd probably get more wear out of.
What has captured your eye recently?