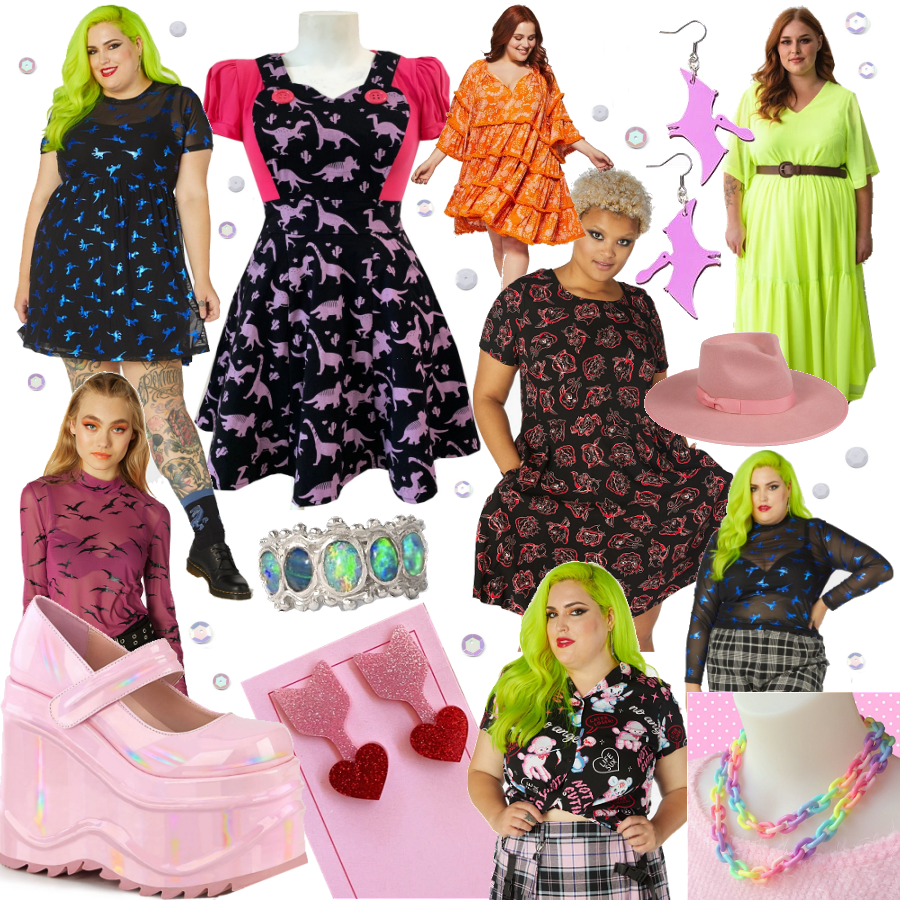 Lustlist! AU & NZ Shops edition!
Alrighty! It's lustlist time again! This time around i've chosen items found in Australian or New Zealand stores. Shopping local! 
Dangerfield – Velociraptor Dress Curve – $94 || If you don't know by now I LOVE dinosaurs! My first tattoo was of a t-rex, my favourite game is ARK, and yeah, I just love Dinosaurs! Dangerfield has come out with so many cute dino items and OMG! I want them all, but I've chosen just my most wanted for this lust list. 
Bonsai Kitten – Black & Pink Dinosaur Heart Bib Pinafore – $89 || Pretty sure this has appeared before on the blog, but I'm still wanting it! I have a mask from them in this print and it's sooo good!
Bohemian Traders – Gathered Smock Mini Dress – $279.95 $199.00 || I've never bought from Bohemian Traders but i've been following them for so long. I always go and browse the pretties online. This dress recently caught my eye.
Strange Magic Shop – Pterosaur Earrings – $30 || Maybe this is a bit of a dino-themed lust list! How amazing are these earrings? They're based on the most complete species of pterosaur from Australia, Ferrodraco! The maker Adele is also a paleontologist and named this species! SO COOL!
Friday Flamingo – Gia Neon Dress – $129 || I mean, it's a neon yellow floaty pretty dress! It's perfect!
Lack of Color – Rose Rancher – $129 || Hats have become more of a thing for me recently. I've been on the look out for pink ones and this is my fave that i've found so far. I also really adore the Stardust colour as well as the Sierra Rose hat. So pretty!
Dangerfield – Magic Dance Curve Dress – $88 || Uh, whats my all time favourite movie? LABYRINTH! What is this dress based on!? THE GOBLINS!
Dangerfield – Velociraptor Curve Top – $58 || Shiny + Sheer + Velociraptor = MUST HAVE!
KawaiiAestheticsShop – Chunky rainbow plastic chain necklace – $60 || This just really spoke to me, I was scrolling and it popped up and my brain just exploded at how aesthetically pleasing it was.
Dangerfield – Unconventional Cutie Blouse Curve – $78 || I'm in love with this print and want every item in comes in, but I'm thinking the blouse is the item i'd wear the most.
Pop Jewels – Cupid Studs – $28 || Always want everything from Pop Jewels but I love the pink & red glitter combo of these!
Millie Savage – Grans Ring – $690 || This ring turns me into the heart eyed emoji. Silver and opal and slightly over the top. Then again, I just love everything by Millie Savage.
Beserk – Demonia Pink Holo Platforms – $144.95 || These are shoes that I LOVE but would probably never wear, or only for photos. I'd likely fracture my ankle in them. But these shoes are my inner 14 year olds dream shoe.
Dangerfield – Pterodactyl Top – $48 || This doens't come in Curve sizes but I think i'd fit the straight size. Again, sheer dinosaur* goodness!
* I know, I know, a pterodactyl isn't a dinosaur.
What is top of your wishlist lately!?