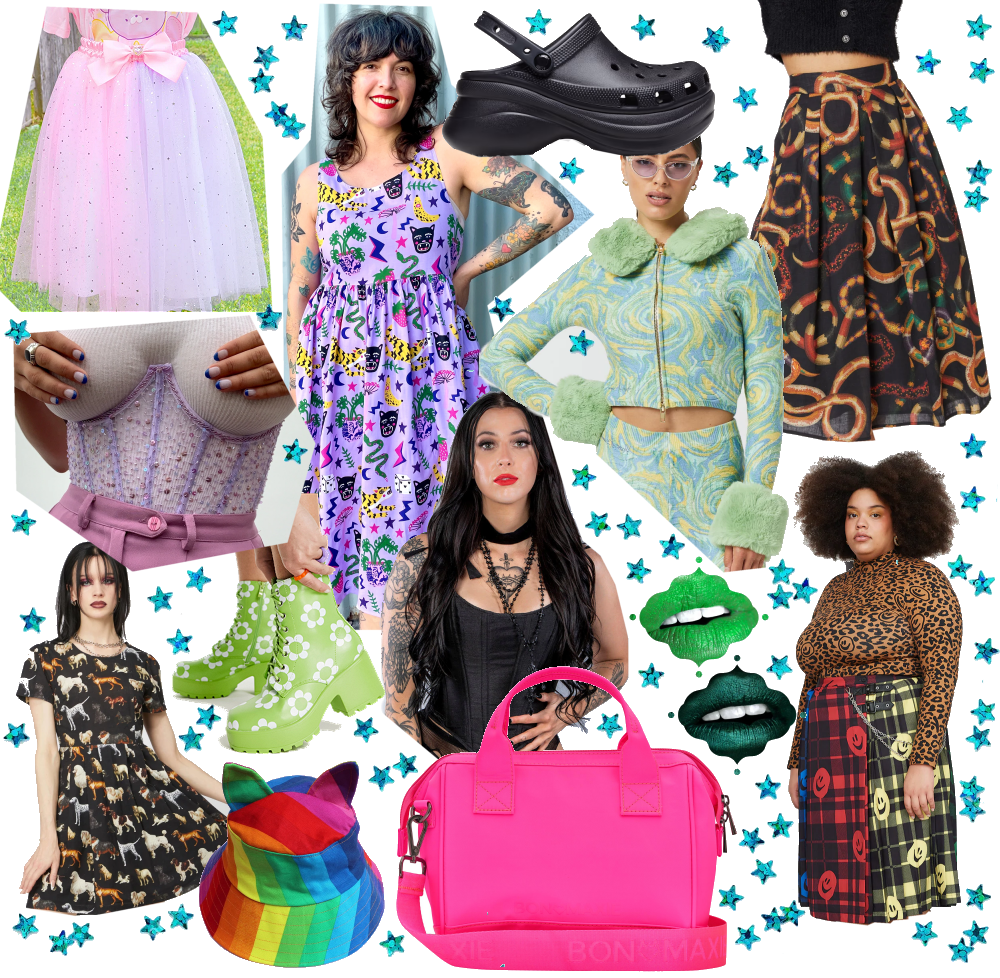 It's been a looooong time since I shared a lustlist! Basically, it's just a round-up of all the pretty things I'd love to own! Heads up, some links are affiliate links (which means if you buy something, I earn a small but of $).
KokoKumaShop – Magical Girl Pink Purple long skirt – $64.80au +$42.28 s&h || Yeah, look, I just want to dress like a toddler, fairy, rainbow and this skirt is just magical. If it wasn't for the added postage, I think i'd have bought it by now. LOOK AT IT!
Dyspnea – Ta Ta Bodice – $169 || I want evvvverything from Dyspnea. It's all so beautiful, but the ta ta bodice is top of my Dyspnea lustlist. In any of the colours but the lilac and bad baby blue are my faves! They go up to a 4xl but they also do made to order at any size! I love that they show their items on so many body types!
Nooworks – Naomi Hastings – $158us || Nooworks is woman-owned and run business from the US with everything being made in California. I adore Amy Hastings art and love ALL the items from the collection with her, but think the Naomi dress is my fave.
Crocs – Classic Bae Clog – $99.99 || Ugh, who am I? Yes, I want a pair of Crocs. I've seen so many stylish people rocking them that I too want a pair. I love the platform of the classic bae the most though.
House of Sunny – Via the Iconic – Cypress Peggy Knit – $190 now $95 || Now, House of Sunny only goes up to a size 18, which sucks. Being an inbetweenie I think this would fit me. I've heard a lot of good things about House of Sunny and the colours and fit of this just makes me go all heart eye emoji.
Dangerfield – Serpent Printed Pleated Skirt – $94 || So, you know how I have like 20 different favourite animals? Well, snakes and pythons are up there at the top. I want the dress and skirt so badly! It reminds me of a skirt my bff Mallory has that i've always loved.
Lazy Oaf – Mixed Check Kilt Skirt – £85.00 (About $150au) || Lazy Oaf now does plus sizes and that is dangerous cause I want so many things! I wanted THIS ONE so much, but thankfully for my bank balance, it's sold out.
Black Moon Cosmetics – Via Beserk – Slime & Myth liquid lipstick – $28.95 || I'm loving green lately, so much, and these green lipsticks just look amazing!! 
Tragic Beautiful –  Rosalind Bustier – $99 || I've always wanted a corset, but don't know if/when/where i'd wear it. Probably just for dress ups. I've never been able to invest in one, but this one from Tragic Beautiful looks pretty good at a decent price.
Bon Maxie – Go! Cross Body Bag – $159 || This bag is sold out in the pink, which is my dream colour. It sold out so fast, which is amazing and so exciting for Clare. Bon Moxie started out as a small hobby business and has grown so much. I have some BM earring boards and I keep eyeing the bags. This pink though, so bright, so beautiful!
Koi Footwear via ASOS – Orchis vegan-friendly platform boots in green floral – $98 || Ever since I was young, I've had a weird love of yellow shoes. Seems that has recently changed to green. Though, as I said, I have been more drawn to green lately. These boots, SO CUTE!
Kirsty Fate – Rainbow Bucket Hat with Cat Ears – $60 || Another small Aussie business based just down the road from me in Brisbane, alllll the hats Kirty makes are so cute but for me, the combination of Rainbow + Bucket hat + Cat ears = ME!
Dangerfield – Doggo Cotton Pleated Dress – $98 || Dogs on a dress! Dangerfield really is hitting it out of the park with their designs lately and their recent Dog collection is amazing. I want all the items, but this dress is my fave!
What is top of your wishlist right now?