Oh yes, it's time to round up some of the items I've been drooling over recently online. October tends to be a time where I go a bit crazy dreaming about all the Halloween themed clothing I want to add to my everyday rotation. In case you didn't know, I have a pinterest board where I've rounded up all the Plus Size fun Halloween themed items. But now, here are some of the things that have caught my eye!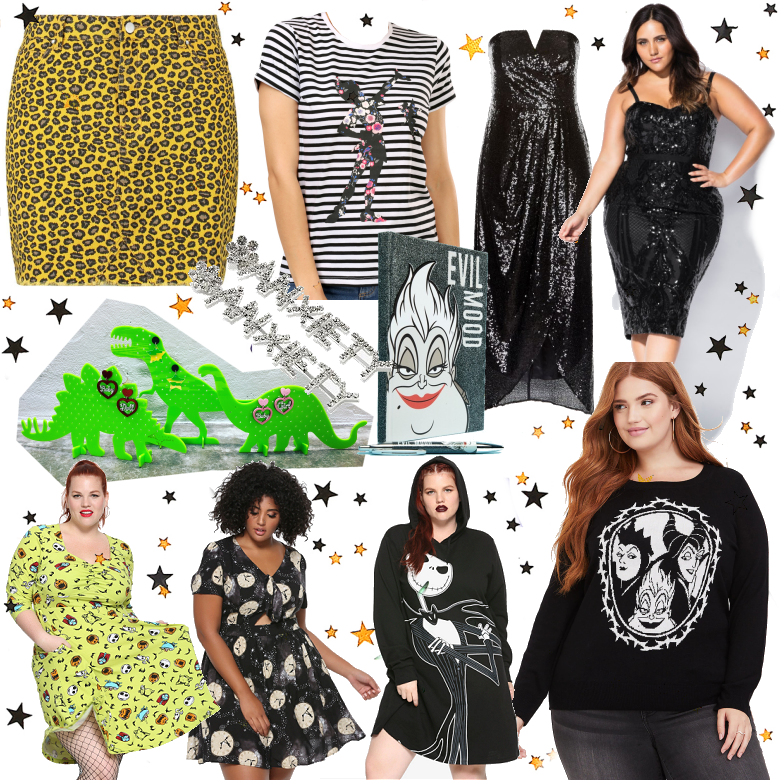 Boohoo – Leopard print mustard skirt – $45au || ASOS had a skirt similar to this awhile ago and I've been bummed out that I missed it. I love the mix of colour and print! 

Big W – Peter Pan Tee – $15 || You should know by now how much I love  Peter Pan and I think this is another Big W tee I'll be adding to my collection. I love the clashing of floral and stripes!

City Chic – Sequin Siren maxi dress – $199 $100 ||  I don't look at City Chics site very often. To be honest, I just can't afford most of there stuff. I do however like to torture myself sometimes. I don't have anywhere I would wear this dress,  but it really is so beautiful!

City Chic – Sequin Sophia dress – $199.95 || Same as above. Look at how prettttty this is! This would be a great New Years Eve dress if you have something fancy planned!

Haus of Dizzy – Dinosaur Earring Holder – $49.95au || I have a lot of earrings and not really a good way to display them. This is where these beauties come in! In a dream world I'd have one of each!

Dolls Kill – Anxiety Earrings – $15US || Earrings that read 'Anxiety'.  They couldn't be any more me! 

ASOS – Ursula Journal & Pen – $24au || I love stationery, I love Ursula, so this is the perfect match! When I was younger and depressed my parents would take me to Officeworks to cheer me up. Stationary still makes me happy.

Hot Topic – NBC Retro Dress – $64.90US  || How pretty is this!? I love the fit and flare style of the dress and the colours are fab! Totally halloweeny but wearable all year round!

Hot Topic – Peter Pan Dress – $49.90US || Again with the Peter Pan, I know. I'm kind of predictable. I love the little cut out at the front and the clock print.

Hot Topic – NBC Hoodie Tunic – $54.90US || Seriously, Hot Topic have about 23387 things I want right now! So much amazing Nightmare Before Christmas stuff! 
Torrid – Disney Villains Sweater – $58.90US || I know it's coming up to Summer here but it has Ursula on it! Basically, if I see anything Ursula, I want it!
What has caught your eye recently?