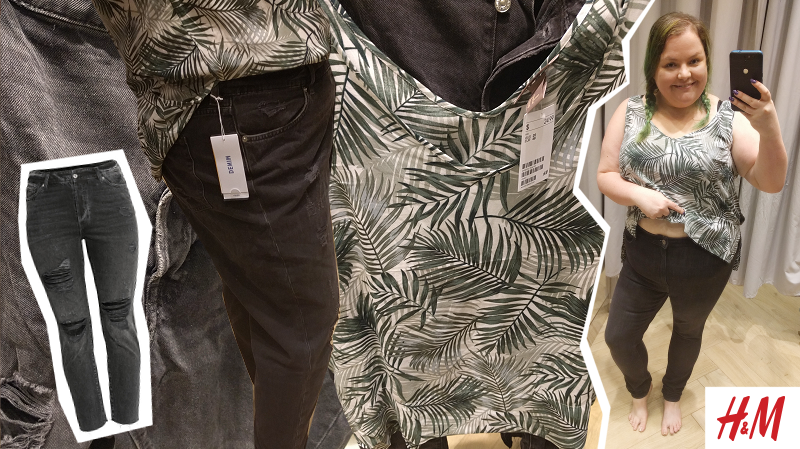 In the dressing room – H&M+ jeans!
On Monday, to try and get away from the heat, I headed to Chadstone to window shop. I spend nearly an hour wandering the racks of H&M and decided i'd try on a couple pairs of jeans. I was actually surprised that I found a few items I liked in the Plus section. Usually, the selection is pretty drab and blah, but of course when I have no money, there were at least 4 items I would have happily welcomed into my wardrobe. Australia's H&M still has a long way to go with their plus department and when looking online the AU section has 66 items compared to the US with 200+. I hope that one day you will be able to order online too to make it more accessible to people. Anyway, here is what I tried on.
I loved the look of these jeans on the hanger, but not so much on me. The little details on them though were great, the distressing, the hardware and the fact they were completely button up, no zips! I wouldn't say they were overly high waisted and they didn't have much stretch. These I tried on in the 20 on but they cut into me too much, so these are the 22, which were comfy.
H&M+ Vintage Cropped Jeans – $59.99
These jeans, THESE JEANS! I finally found a wonderful pair of jeans that I like and I couldn't afford them. Always the way. These jeans were on sale and I can't find them online, but I'll leave the details of them below. They were so comfy and SUPER high waist. In the middle picture, I'm actually pointing at where my belly button is! They were almost like jeggings, very stretchy, but also firm like denim. Also a lovely dark wash. These were a size 20.
H&M+ Stretch Skinny – High Waist – Originally $79.99 on sale for $30 (at Chadstone store)

The top i'm wearing is also a H&M+ item in a size 2o (and was $24.99). I also saw a few other super cute things in the plus section. I actually fell SO in love with that patterned shirt!
Embroidered sweatshirt – $39.99 ||  Knitted jumper – $39.99 ||  Long-sleeved shirt – $29.99
Have you tried on anything in H&M?