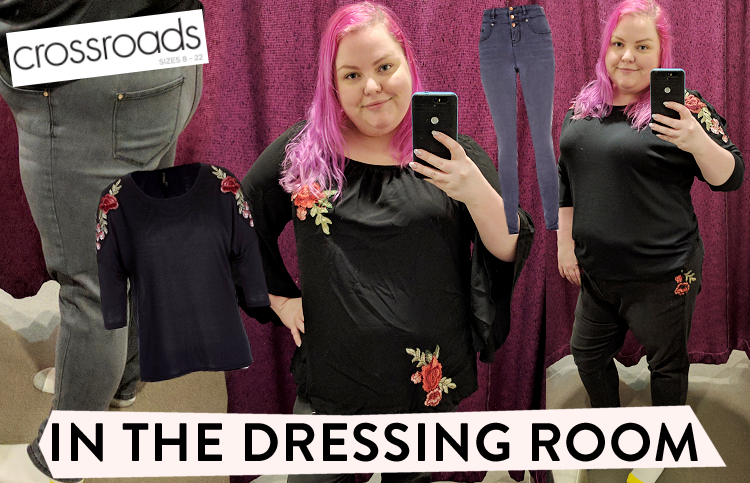 In the dressing room – Crossroads – Premium Denim!
It's been a hot minute since I've done an 'In the dressing room post'. Sorry about that! It's been a mix of not finding anything I like and not wanting to try on clothes. As I was walking past Crossroads today a few things caught my eye. Their denim, shock horror, I know! Plus their rose applique. I do love some good rose embroidery! So I thought I'd give them a try and see what the fit was like.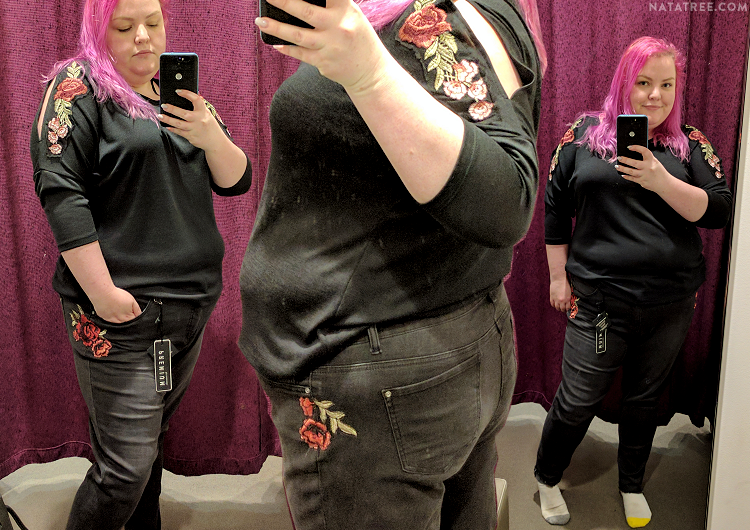 Now you know, jeans and I aren't great friends. Being an apple shape, finding pants to fit right that I like is hard. I've also never really liked thick hard denim. One thing I can say with all these jeans I tried on, they are not hard, they are SO comfy! They are soft and stretchy but still solid if that makes sense.
These jeans are super cute, and I feel I probably could have sized down to an 18. All the jeans are 'skinny' jeans, but I found these to be quite roomy all the way down the leg and at the opening. They were a nice faded black and I actually really liked the rose details. They also had a blue jean with blue flowers on them too. Yep, i'm aware I have no butt!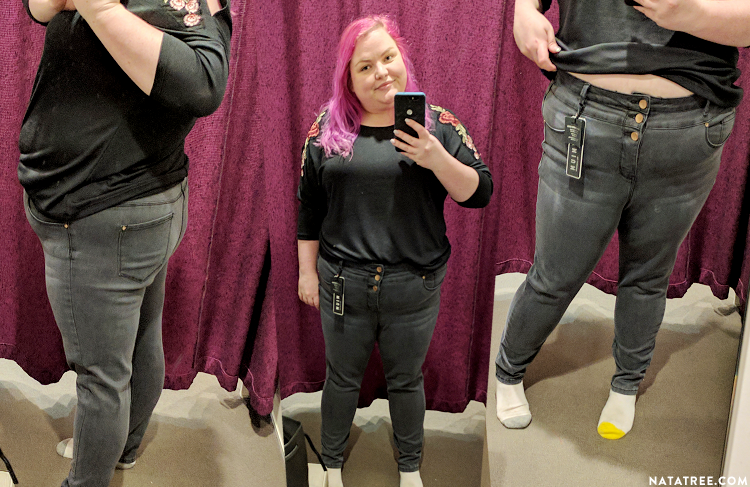 Next are these high waisted beauties! These are my favourite out of the jeans. I wasn't wearing the underwear I'd normally wear with pants (usually something more fitted, not comfy loose ones) and I think they'd look even better with those. They sit pleasantly high on me, above my belly button and I really loved the button details. These were a lot slimmer in the legs and foot opening. Again, I may have been able to size down.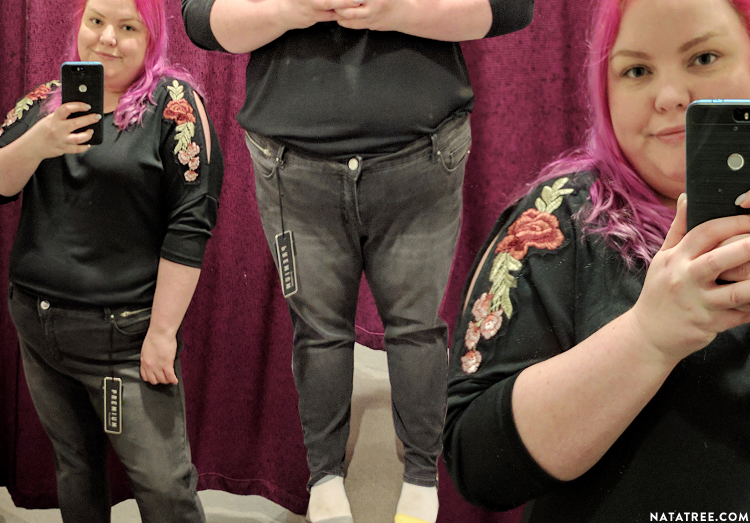 These jeans were way too big, and I didn't want to go out and get a smaller size, sorry! These were a 22 and were way baggy on me. I'm usually a 20-22 Australian in pants, so I was surprised that even the 20 were roomy. I seriously expected I'd need to get the 22s for the other jeans. The details on these are super cute though, they have zippers at the ankles and above the pockets.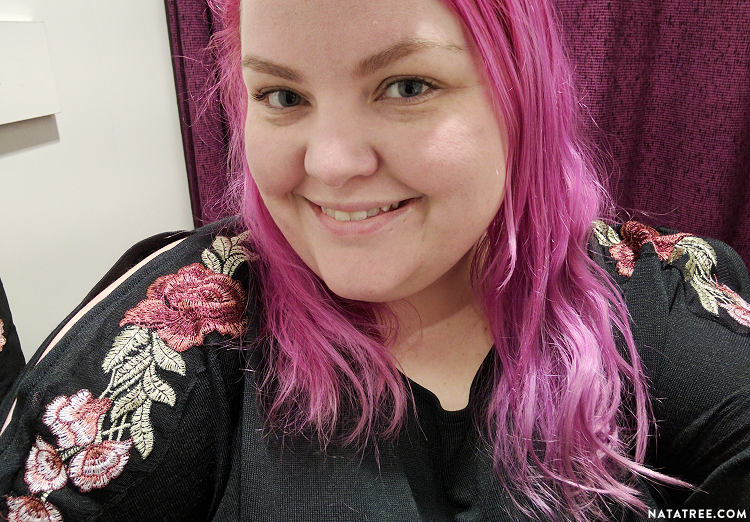 The top I'm wearing with all of the outfits above is soft and comfy. Whilst I was trying everything on I was actually surprised at the comfort factor of everything. Especially the jeans. Now, I know, I know, I go on about being sick of cold shoulders, but I just have to suck it up. This top I don't mind it so much because it's more of a peek-a-boo cold shoulder. It's a polyester mix that I found was like a very thin lightweight jumper more than a top.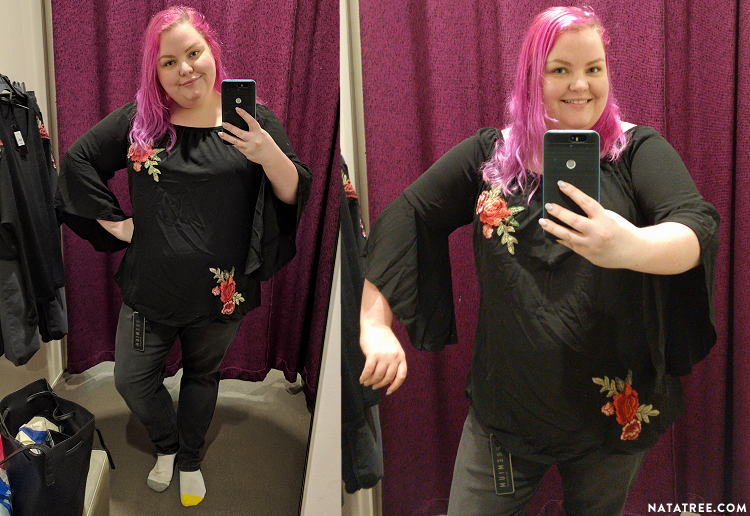 This top I can't find online is soooo pretty! It is an off the shoulder top that still looked good if you wore it sitting just on the top of the shoulders. The sleeves give me life! Give me a gorgeous bell statement sleeve and I'm happy! The material is a bit creasey though and I know that would drive me nuts.
South by Southwest LS Applique Off Shoulder – Size 20 – $39.95 (00131439)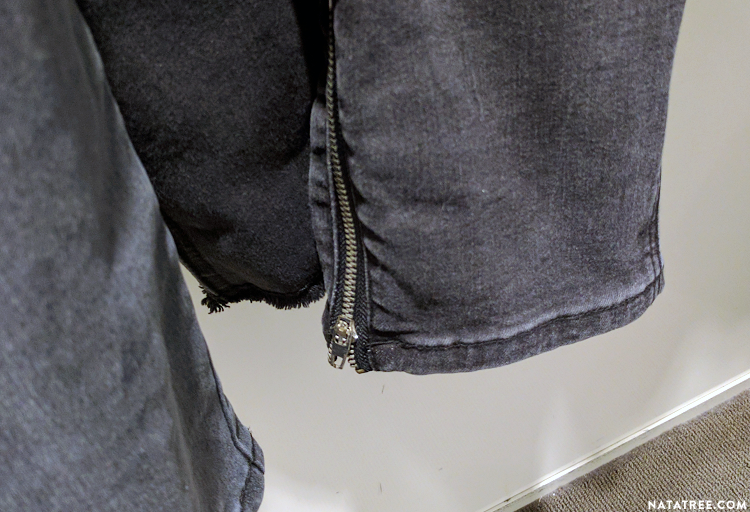 Which pair do you like the most?