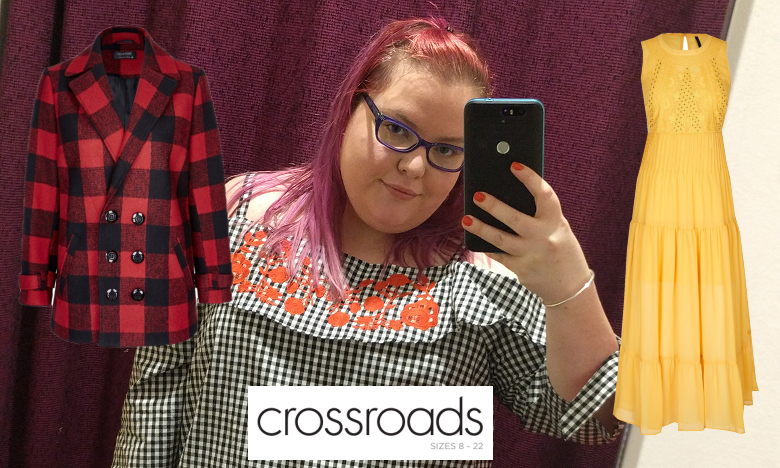 In the dressing room – Crossroads (again)
Wahey! It's a new 'In the dressing room' post! Last week I headed into Crossroads and fell in love with this dress. I was feeling under the weather so I didn't try it on, but I kept thinking of it. I went back in today to try it on and see how it fit.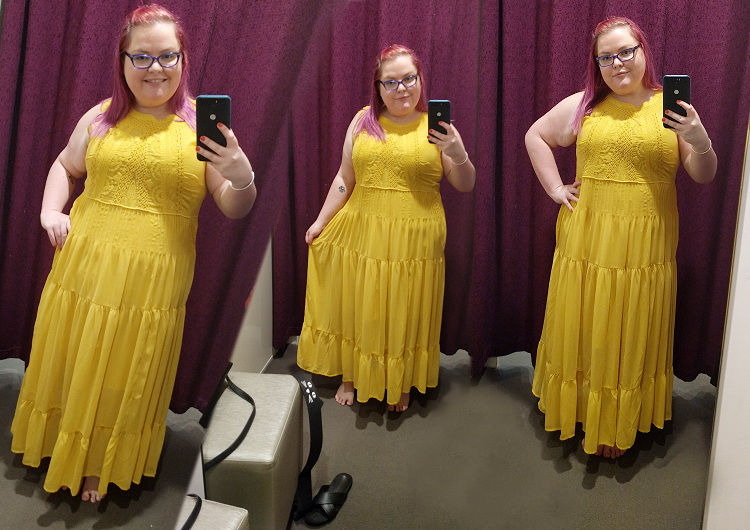 Oh how I love it! It made me feel like a Disney Princess. The colour is a gorgeous yellow that has a mustard tinge with stunning embroidery. It also comes with a slip dress underneath that can be removed.
I tried this on in a 20 and it fit great, though in saying that I don't have big boobs. This fit snug across my chest so if you have bigger boobs you may need to size up. This dress goes up to a size 22.
Sunshine Embellished Maxi Dress – $99.95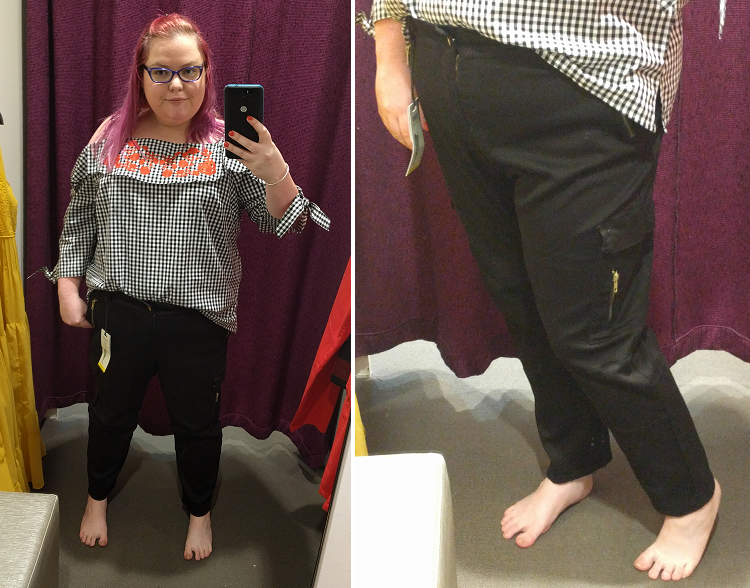 I am forever trying to find pants I like. Being an apple with an apron of fat means it's tricky for me, it's a lifelong quest. These pants were cute, but I wasn't sold on them. They are made of a lightweight denim and I really liked the cargo details. Seeing as they are supposed to be a skinny fit and I think I'd need to size down at least 1 or 2 sizes, but this is what they looked like on in a size 22. They had heaps of stretch.
Cargo Pocket Skinny Jean – $59.95
I really love gingham and embroidery but I find i'm rather fussy with them. This top was love at first sight though. I loved the colour combo and the tie sleeve details. Its an off-the-shoulder design with straps, kind of extreme cold-shoulder,  but I think it works! I tried this on in a size 20 and it was spacious.
Cold Shoulder Gingham Top – $49.95
This jacket is another thing I've not been able to stop thinking about since seeing it in store last week. I LOVE IT! SO MUCH! I think it will be great for Melbourne winters. The double button red plaid is gorgeous! I think with a pair of black jeans & statement boots this would be a fantastic outfit. I tried this on in a size 20 and it fitted nicely. In this size, I could wear a thin jumper easily underneath, but I think I'd need a size up if I were to want a bulky jumper.
Check Pea Coat – $89.95
Which is your favourite?