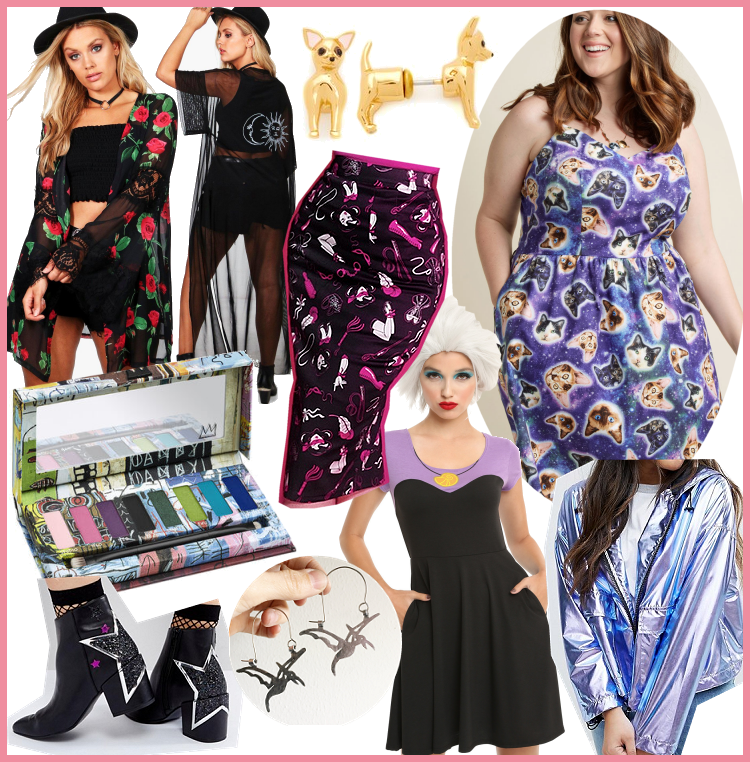 Boohoo – Rose Print Kimono – $40 || I am still in love with rose print/ embroidery. (For example)
Boohoo – Sun and Moon Mesh Kimono – $36 || I know it is still Winter here, and very cold, but this is just perfect for Summer! I just want to rock bodycon dresses with elaborate kimonos this summer! Goth teen me would have cried if I could have had this back then!
Kate Spade at Shopbop – Chihuahua Ear Jackets – $61.11 || YOU GUYS! I got my first piece of Kate Spade the other day, I actually teared up. It was such an unexpected surprise. I was only talking to my Mum the other day that I didn't think i'd ever own any Kate Spade cause I couldn't afford it. These are at the top of my KS wishlist! SO CUTE!
Vixen by Micheline Pitt at Lana Rose – Pencil Skirt in Frisky Fetish Print – $105 || So, I NEED THIS PRINT! I really wanted the circle skirt, but it's sold out in my size. *sad face* The pencil is gorgeous too and I would still totally rock it. THIS PRINT THOUGH! I need something in this print, I've been OBSESSING over it since it was sneak peaked and I have one of the brooches. *sobs in corner* This link is to an Australian retailer who also offers ZipPay.
Modcloth – What the Heart Flaunts Mini Dress in Cosmic Kitties – $69.99 (US) || Kiiitttiiieeesss in space! How purrrfect! I really wish all my clothes were animal themed. I do have an awesome cat dress coming that I can't wait to show you!
Urban Decay at Mecca – Jean-Michel Basquiat Tenant Eyeshadow Palette – $59.00 || The colours in this set are just stunning and I've swatched them in store and that pink! I dream about that pink. Also, Mecca really need to introduce AfterPay!
ASOS – Reality Star Ankle Boots – $89.00 || Boots, with stars and glitter and pink. Basically me in boot form.
Adriana Soto on Etsy – pterodactyl earrings – $36.80 (also love the owls!) || I love Dinosaurs, and Pterodactyls (or Pterosaurs) are my favourite. My niece and I have our vocal impressions of them down pat! I was so excited to see all the skeletons at the Melbourne Museum (See!)
Hot Topic – I am Ursula Dress – $42.90 (US) || It's an Ursula dress! I love that this is a cute simple cosplay of one of my favourite Disney characters!
ASOS Curve – Cropped Metallic Cagoule Jacket – $89.00 || This is still on my lustlist (I'm hoping it will eventually go on sale!) You can never have too many jackets when living in Melbourne!
What's at the top of your lustlist right now?