Event – Pop Up Globe – As You Like It
On Thursday, I attended the Opening Gala Performance of 'As you like it' at the Pop Up Globe. I'm lucky to have some amazing friends, one of those being Mallory. If you've followed me awhile, you've probably seen the name a few times, but this lady is making a name for herself. It's been amazing to see her blossom these past few years into the mighty fine writer and interviewer she is. I'm also lucky in the fact I sometimes get invited as her +1 to some events! (Bonus, you can see her interview me HERE)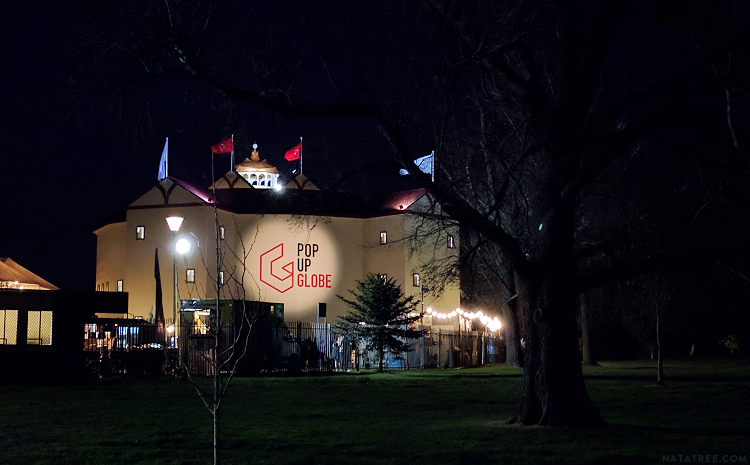 Now, I want to say, I'm not a reviewer. I don't even consider myself much of a writer. I find it hard to find the right words to describe my thoughts and feelings. But what the hey, I'm going to give it a go!
I really had no idea about the event beforehand. I knew it was a Shakespeare play, it was at the Sidney Myer Music Bowl and that's about it. It was an area of Melbourne I hadn't visited before, so Mallory and I met up and Flinders to walk to the event. As we neared the area, I noticed a large round arena like building. I kind of wanted to hit my head against my hand. Duh, Natalie, Pop Up Globe, as in the Globe Theatre!
The venue was amazing. Simply amazing. It's a full scale replica of what they believe the second globe to look like. We had a room to ourselves on the third floor. Climbing the staircases and walking along the hallways was a little disconcerting. Feeling the boards move under you feet as you walk. You knew it was sturdy, but the slight give of the wood made you somewhat doubtful.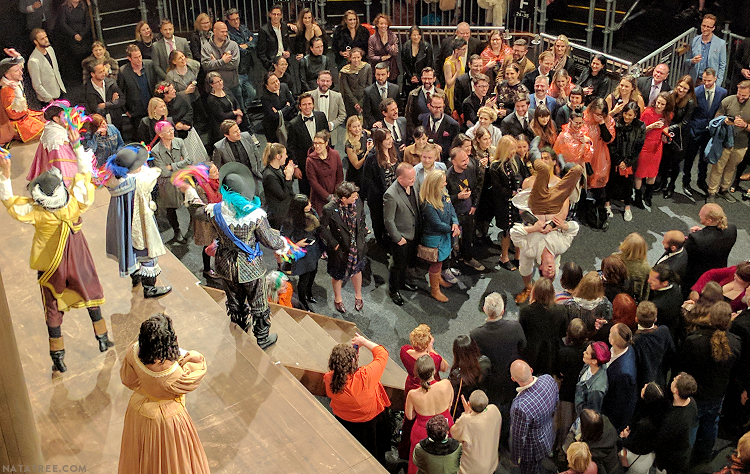 I was glad to be on the top floor and not on the floor, the show had some interactive elements and the actors would often run through the crowd. The floor area is also not fully undercover, so when it started to lightly rain, ponchos were handed out. Though if none of that bothers you, being a 'Groundling' would certainly be an experience and you'd get an amazing view of the show.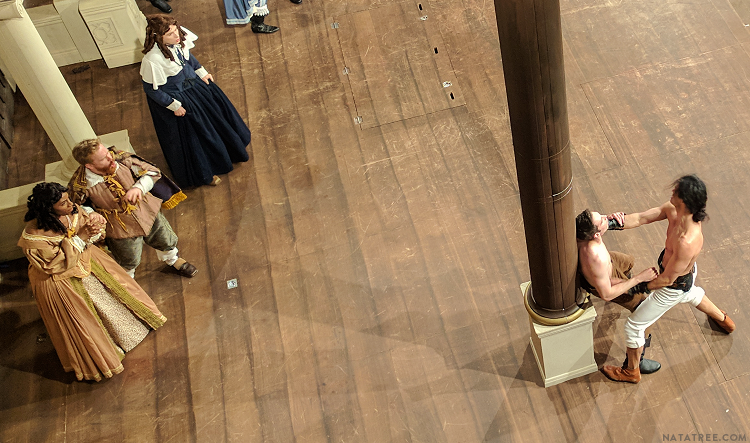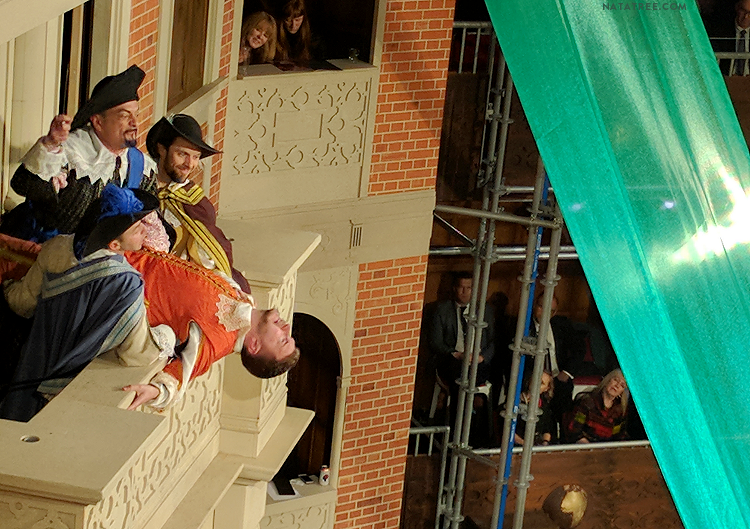 I don't want to give away too much of the plot, though many people would know it anyway. This wasn't a Shakespeare play I was familiar with, so it was all new to me. I admit, sometimes it was a little hard to follow along with due to the Shakespeare dialogue, but I managed most of it. I also loved how they brought it into the 21st century with a few things, mainly the inclusion of some very familiar songs!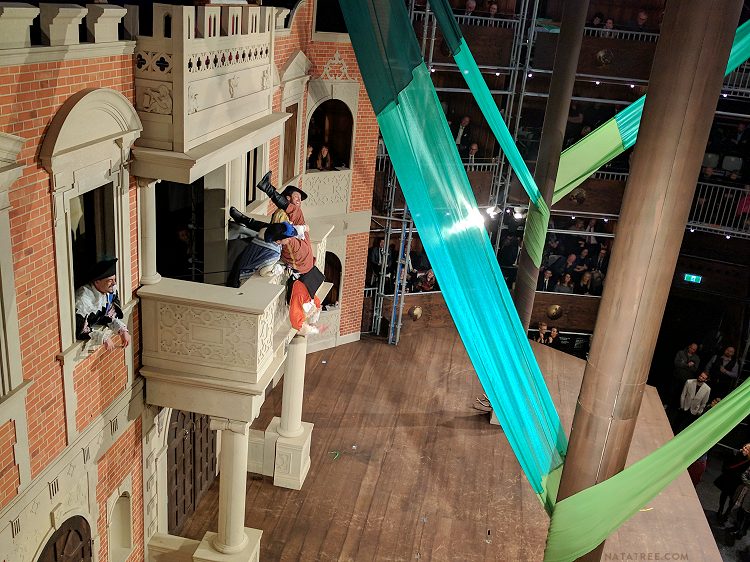 The acting was great, and very sharp, including some brilliant improv with the audience. Jonathan Tynan-Moss (who played Rosalind/Ganymede/Rosalind pretending to be Ganymede pretending to be Rosalind) stole the show. He plays the role so well, from a love-struck woman to a woman masquerading as a somewhat rapper-eque man. When Rosalind transforms to Ganymede, you totally believe it's a women pretending to be a man.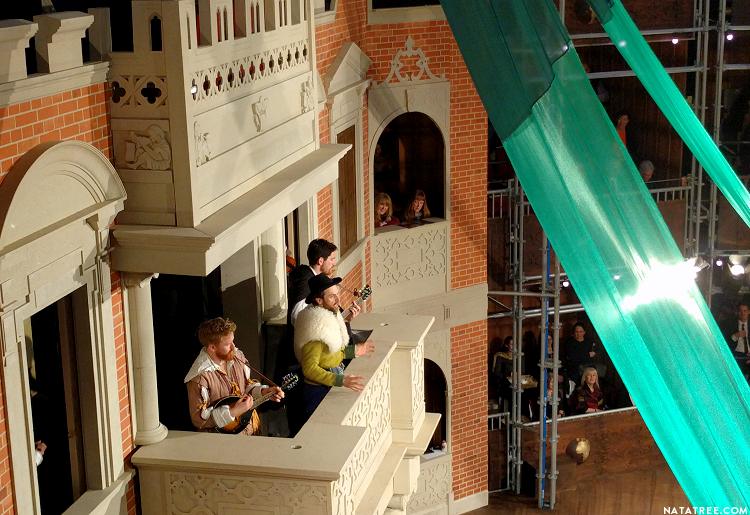 I also love, love, loved Touchstone (Played by Michael Mahoney), who was somewhat Bard-like and probably had the most audience interaction. His rendition of 'My heart will go on' will be something I will fondly remember.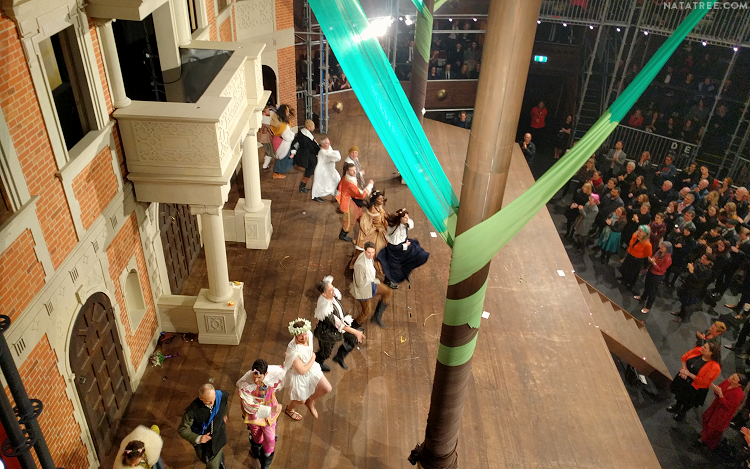 All in all, I had a fantastic night. The atmosphere was so uplifting that I walked away really happy. If you have the time, I'd definitely recommend you go and see a show. I can't say of the other plays, but As You Like It was a funny, uplifting love story that had some amazing acting, singing and dancing.
The Pop Up Globe is playing 4 different plays. As You Like It, Othello, Much Ado About Nothing & Henry V. This season runs from 21 September to 12 November 2017. For more info and tickets, be sure to head over to their site.
(I'd like $1 for every time I've written glove instead of globe in this post!)

Have you seen a Shakespeare play live?