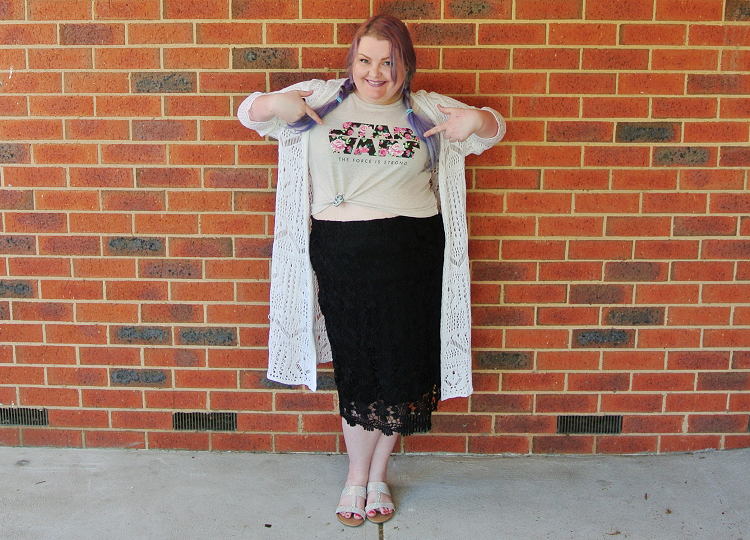 Outfit – Star Wars and Lace!
So, I'm doing something a little crazy in the blogging world. I'm wearing the same skirt two outfit posts in a row! The truth is, wearing the same item a few days in a row isn't a bad thing. Being an outfit repeater is totally normal. When you love something, wear it!
Big W has been a big problem lately, taking my money! They keep releasing these amazing crop tops and I just can't seem to resist them. I have a Barbie one, a Ghostbusters one, and now this Star Wars one. I'm also eyeing a Peter Pan one they have.
Honestly, Peter Pan means SO much more to me than Star Wars, I adore Star Wars, but Peter Pan holds a lot of meaning. Thing is, this top was just too beautiful to resist. I'm LOVING grey at the moment, and then with the floral print, isn't it perfect!? I was considering pairing this outfit with my Irregular Choice Star Wars shoes, but I love them so much I'm too scared to wear them.
I tried one last time to get my hair silver/grey and now I am officially giving up. This is as grey as it got and it's more purple. Purple enough it blends well enough with my extensions. I'm considering going red next, it's been around 7 years since I've had red hair. What do you think?
Let's talk about this long cardigan, I get so many vibes from it. Its a bit Vintage, a bit Hippy, a bit 90s, but SO very comfortable. In fact, this is one of the most comfortable outfits I've worn in ages, which is kind of surprising considering it's a crop top and body con skirt!
Long Cardigan – BeMe (S/M) || Crop Top – Big W (2xl) || Skirt – BeMe (20) || Shoes – Kmart
What do you feel most comfortable in?