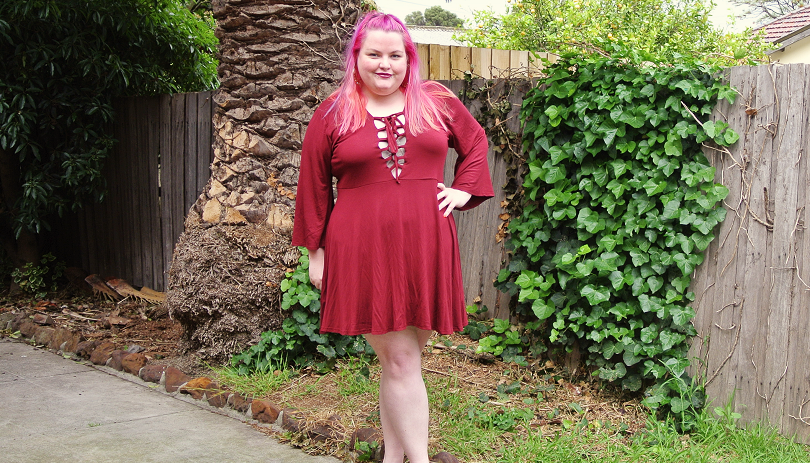 Outfit – Laced up in marsala!
Back in the day, my wardrobe consisted of 95% black clothing and 5% red. Once I started with the pink hair though, a lot of the red left my wardrobe. I'm not sure if it was because I was 'over' the red, or if it was because it clashed too much with the pink hair. I don't really care if colours clash, so I'm not too sure. Anyway, with Marsala being the colour of the year, I've noticed a lot of this beautiful wine, burgundy, maroon colour making it's way into my wardrobe.
I already have 3 pairs of pants, 2 cardigans, and now, this dress! I picked this up the other week back using one of the many coupons Boohoo always seems to have going. I sized up to a 24 because I find their dresses very short and was hoping this would give it a bit more length.
The colour is beautiful and material soft, though as you can see, a little clingy (I was wearing pretty comfy undies and will proably wear more form fitting ones next time). Laces are super in fashion at the moment, and this one comes down really far. I'm just wearing a nude bra, which I really need to invest in a new nude one, as this is strapless and a little big on my now. I like the idea of layering a different colour singlet underneath it though.
Oh, and the reason why my feet are cut off in all these photos? It's because I hurt my toe, it's bandaged and i'm just wearing comfy socks. I managed to drop a shoe box on my pinky toe and the corner of the box landed right in the middle of the toe. It's been 5 days and it still really canes!
Dress – Boohoo (24) | Earrings – Monki via ASOS (old)

What colour have you noticed making a repeat appearance in your wardrobe lately?