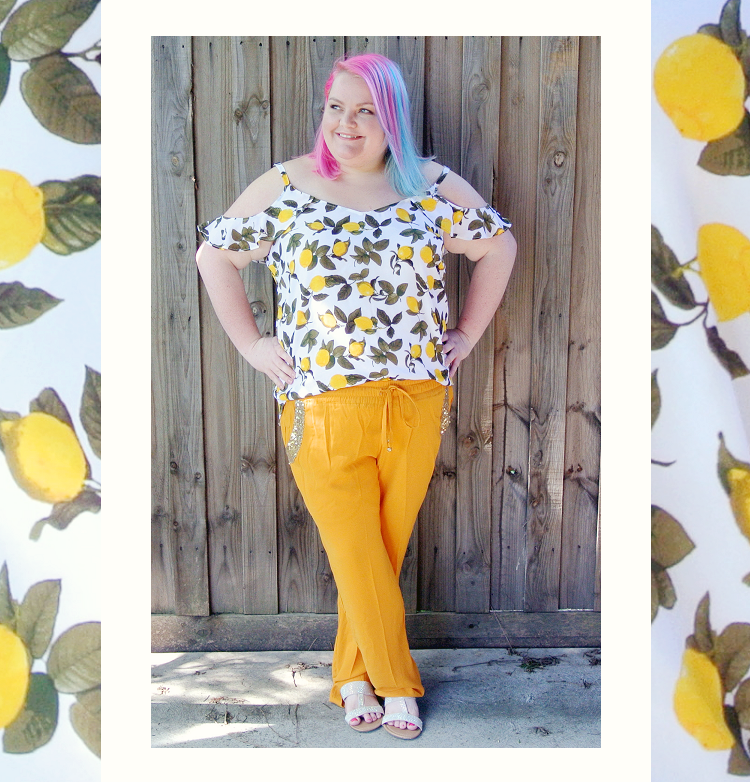 Outfit – Mustard & Lemons! Nyata & Crossroads!
This outfit is something different for me. These are colours that I don't usually wear. Sure, I have my lemon print dress and I do love yellow, but generally I shy away from a lot of yellow/orange/greens/browns. I really love how this outfit turned out though. I wore it out to dinner and was super comfortable the whole evening.
Nyata are amazing. I've been lucky to see their designs numerous times, but sadly, I don't often have the money to be able to purchase them. Something I wish I could do more is supporting smaller Australian businesses. Nyata is Australian owned but manufactured in Indonesia. They offer smaller runs on their collections so they are all limited edition.
I picked these pants up in a sale after Christmas, the few items I had my eyes on had sold out in my size and I'm always looking for new interesting pants, so I thought I'd give these a try. Finding pants I like can be hard, being an apple shape means pants often look awkward on me, but I've found looser harem type pants help. I picked these up in size 'Gorgeous' which is a 20-22. They fit great, though are a little long, but that is something easily fixed.
I wasn't sure if I'd have anything to wear them with, apart from a black top, but then I remembered I picked up this top (it matches my dress) and I really love the whole citrus look of the outfit. I wish I still had my red hair to wear this with!
 Top –
Crossroads
||
Pants –
Nyata
(size Gorgeous)
||
Shoes –
Kmart
Oh, and I couldn't help but do a cheeky internet VS real life photo. Haha. One of the good things about wearing a moonboot is that I can take it off for photos.
What is a colour you don't often wear?