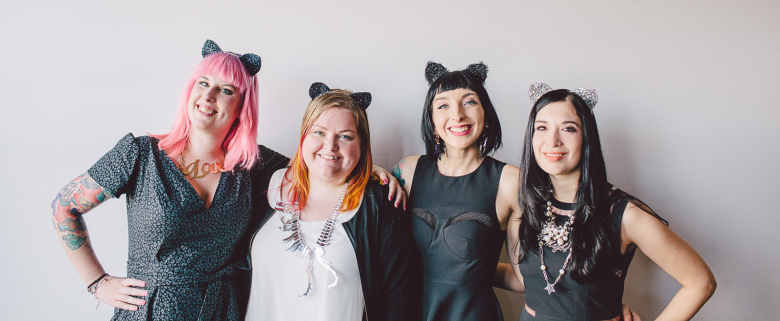 I've been blogging in one form or another for a loooong time, i'm talking around 12 years now. One of the first blogs I remember reading was Gala's, she had colourful hair and such an optimistic outlook that I couldn't help but wish I had. Soon after, I started reading Nubby Twiglet. Shauna had such an amazing design aesthetic that stretched across into her wardrobe & home. She was a girl after my own heart. I don't remember when I first read Rock n Roll bride, but I remember clicking back through pages and pages of articles looking at all the amazing and eclectic weddings.
When these ladies joined forces and announced the blogcademy, I was ecstatic, and heartbroken. I mean, I live in Australia, what was the luck that they'd travel down here? Turns out, I was in luck! I was so excited when they announced they were coming to Australia, and as the classes were in different states, I used the excuse to give myself a holiday.
Gosh, did I have an amazing time! One of the things that drew me to The Blogcademy was how fun it looked! Now i've been to a few blogging workshops & classes, and they are great to learn things, but The Blogcademy is presented in such a laid back and easy going way that you just feel so comfortable. I always find it easier to learn and absorb things when I'm relaxed.
It also helps that you are surrounded by other amazing bloggers, most in sparkly headpieces, wanting to learn as much as they can, and willing to bounce ideas around with you. If you're a blogger, you'll understand how awesome it is to be able to talk 'blog' with other people. Try doing it with people who don't blog and they often just give you blank stares. It's a thing!
The 2 days was amazing. Well worth the trip & money spent. I have a notebook full of ideas, a head full of thoughts and a whole new set of friends!
The Blogcademy are heading back to Australia this year & doing classes in Sydney & Melbourne. Never fear if you're elsewhere in the world, they are visiting other locations too!
 First & Last photo by Corey Sleap. The rest by me.
You can see more photos I took of the day here.