In the dressing room – Peter Alexander (Plus & Straight sizing)
After taking a quick sticky beak in the Sydney airport store, I fell in love with a few new Peter Alexander pieces (see insta here). I put a poll on my instagram to see if you wanted an 'in the dressing room' post and it came back mostly yes. So I ducked into the Penrith store today to try on a couple of things.
HARRY SLEEP TEE –  – M/L
First up, the Harry Potter sleep tee! I tried this on in the straight sizing, M/L and as you can see, it's a very roomy fit. I'm generally a 20/22 and had no problems in this. Super comfy!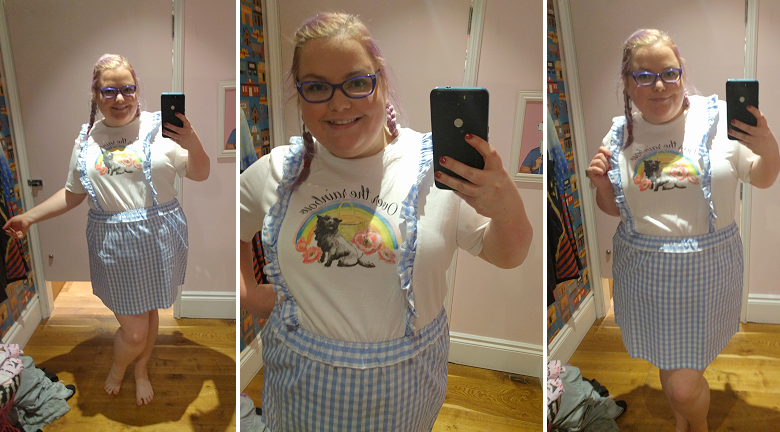 WIZARD OF OZ NIGHTIE – $89.95 – L
This is SO CUTE! I just had to get it to try it on. I wasn't sure it would actually fit, as again, its from the straight size section. It fits but I think it looks a little awkward on me. I love the Dorothy gingham and then ToTo on the front. It was just so adorable.
FRENCHIE FRILL SHORT – $39.95 – XL
COSTUME PENNY MID SHORT – $39.95 – XL
Again, straight sizes. I know, I was just wanting to experiment with the sizing. These are two different kind of shorts in the XL. The top pair were super stretchy and comfy, whilst the costume short was more fitted. Both fitted comfortably.
P.A. PLUS DIRTY DANCING TEE – $109 – One Size
Since releasing their Plus Size collection, PA has continued to release more and more plus size offering including more licensed gear. This Dirty Dancing night tee is LOVE! One of my favourite movies, and so comfortable. Very lightweight. This is a One Size offering and very large. I'm unsure what size exactly this caters to, but I would say it would easily fit a 24.
You can see a bit more info on the Plus Size sizing in my previous 'PA in the dressing room' post HERE.
A few other favourites:


Which is your fave?