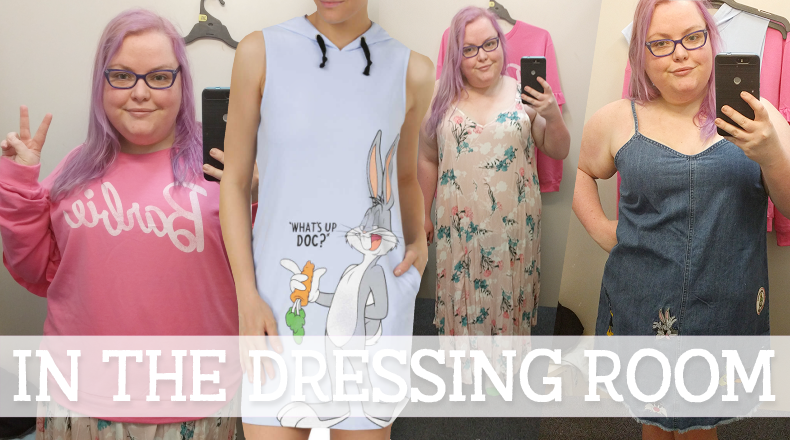 In the dressing room – Big W – Avella, Looney Tunes & B Collection
Whilst out today I ducked into my local Big W to pick up a few things. I made my way through the clothing section and ended up picking up a few items to try on. I've picked up some really cute tops from Big W lately.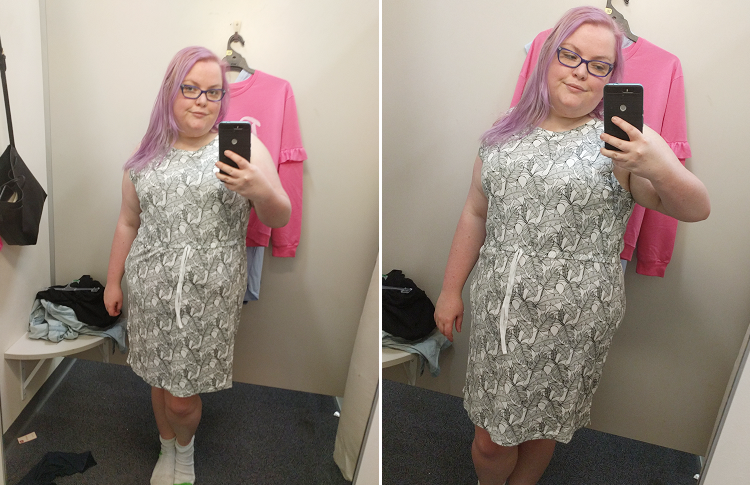 Sleeveless Printed Drawcord Dress – Size XL – $15
First up is this cotton-blend dress with drawstring waist. It is light, airy and very comfy. The thing that drew me to it was the print and the fact it was $15! This is in the standard section and in the largest size, which is an XL.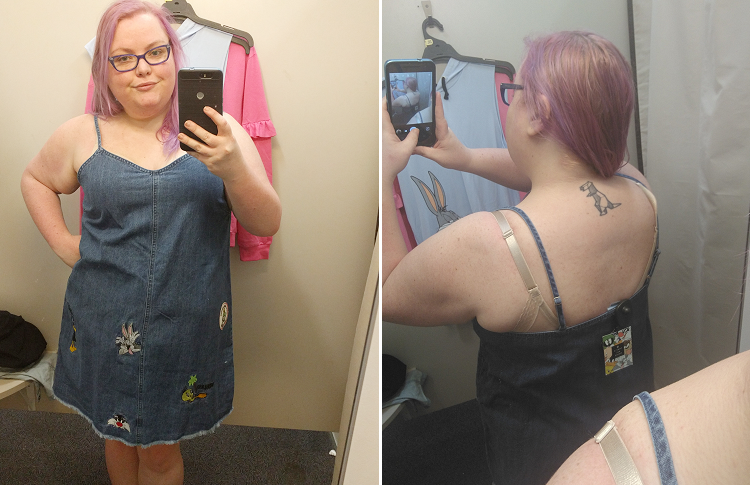 Looney Tunes Women's Denim Dress – Size 3XL – $35
This dress is SO CUTE! After looking at these pictures, I think I may go back and get it when I have money, hopefully they still have my size. This is a lightweight denim dress with Looney Tune character patches over it. My favourite is Marvin the Martian that says 'Men are from Mars'. I love that the spaghetti straps are adjustable and I think this would look super cute with a top layered underneath. I tried this on in the 3XL and I liked the fit. If you had boobs much bigger than mine, it may be too tight.
Looney Tunes Women's Sweat Dress – Size 3XL – $25
This wasn't something i'd wear, but I wanted to try it on anyway. For me, it looked and felt more like pyjamas. This is the 3xl and it was a bit tight and clingy around my lower belly. It does have pockets which is a major plus.
Avella Woven Printed Dress – Size 20 – $29
THIS DRESS!! I can't find this online, but this one is similar. I'll keep checking the site and update if it comes online. I AM IN LOVE! I was going to put it on layby, but when I got there I was told minimum layby amount is $50. *insert sad face*. It's super lightweight, comfy and breathable. I felt a bit like a fairy in it. This is the 20 and it was oversized, I was planning on buying the size down. I'm going to go back later in the week when I have money and pick it up. I think it will be brilliant for summer.
The strap details on this really drew me in. I only planned on ducking into a couple of stores and didn't get dressed up today. That also meant I wasn't actually wearing a bra. So when I decided I wanted to try a few things on, I thought I'd go see if they had a bra in my size. I actually quite like how this one turned out, you can see it in a few of the pics, but it has some gorgeous lace detailing and was surprisingly comfy!
Hestia 360 Sculpt Contour Bra – Size 20c – $30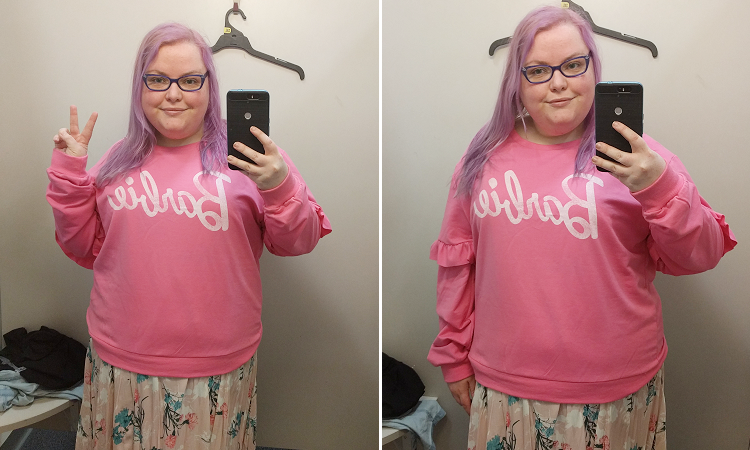 Barbie Women's Frill Sweater – Size 3XL – $29
I was tempted by this too, but I'm trying to be more practical with my purchases. I already own a Barbie jumper and we are getting into the warmer months. It was so cute though! This was quite roomy and I probably could have sized down.
What do you think? Any that you love?