Outfit – Halloween Ghosties! #hashtagplusblogger
After a crazy eventful trip to Sydney, where nothing went to plan, I am back home in Melbourne. It's nice to be back to the cooler weather and my cats. The ever so wonderful Suger of Suger Coat It has created a new plus size blog challenge. Inspired by the days of the good old Aussie Curves, it's a weekly challenge and link-up focused on thinking outside the box and supporting fellow fashionistas! To find out all the info, plus the first round of challenges check it out HERE.
The first challenge is 'Halloween'. I was originally thinking of going all out, but then I decided, no, I'll wear something that I'd actually wear. In fact, this dress has been getting a lot of wear these past few weeks! I do wear this dress all year round, but I wear it even more around Halloween.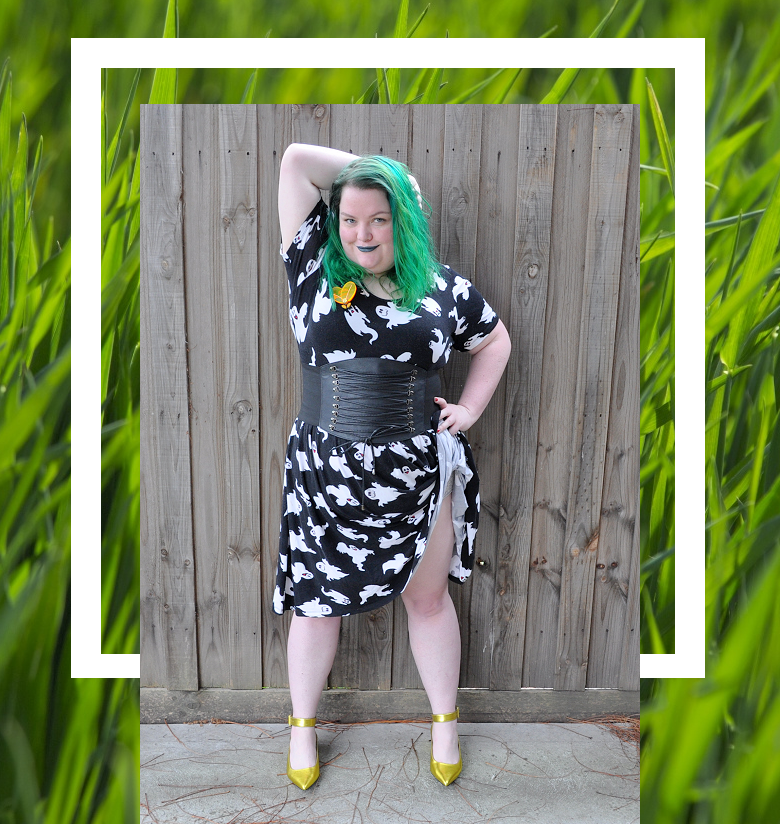 New hair! I guess this is the first time my new hair colour is making an appearance in a blog post. Whilst in Sydney I decided a change was needed and went the total opposite of what I had been talking about. I've never gone fully green before, and I love it! I'd actually been missing having darker hair. I decided to just leave it all crazy bed head like for the photos.
I have a ghost brooch and multiple Halloween brooches, but I decided that I wanted something that would pop against the pattern. My giant mutant bee brooch may not specifically be a Halloween brooch, but I think it could be considered a little spooky. It also ties the shoes in with the outfit. Ever since I was young, I have had a weird love of yellow shoes. I used to live in a pair of flat yellow slingbacks in high school. These beauties were love at first sight and when they dropped into the sale section, with an extra 10% off coupon, I scooped them up. They are not for the wide of foot though. I don't have a particularly wide foot and even these are a little slim for me.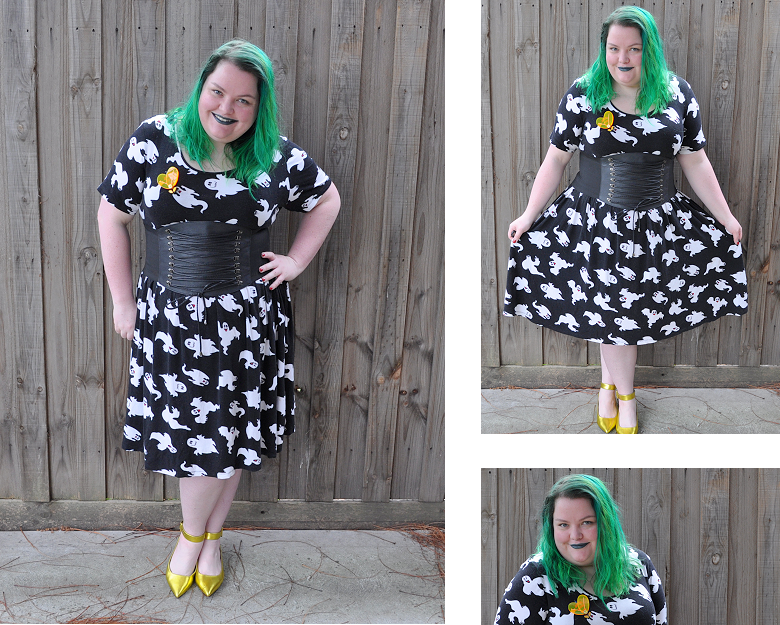 Dress- ASOS (old)

||

 Belt – City Chic || Brooch – Kaiju Candy || Shoes – ASOS 
What are your plans for Halloween?