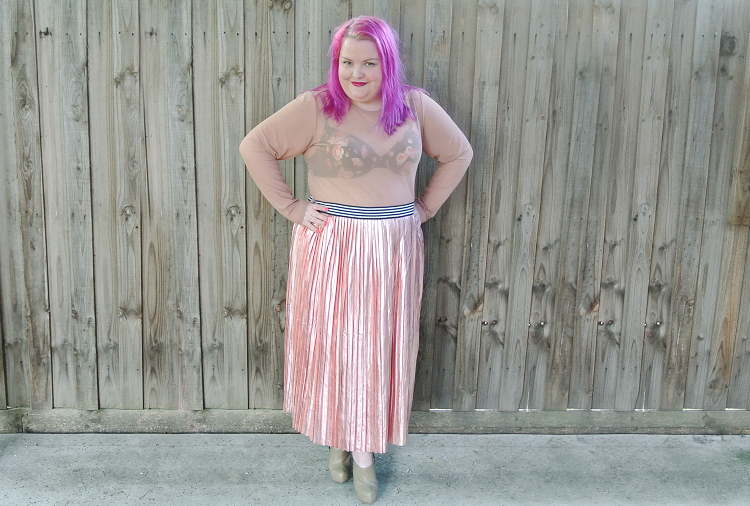 Outfit – Sheer Nude and Pink Metallic!
Oh hi, hello, something a little fun for this outfit post. I sadly haven't had the chance to wear this outfit out yet. The plan was to wear this to my friend Vanessa's birthday party, but sadly I was too sick to make it.  I really wanted to put the outfit together and show it off. Love how it turned out if I can say so myself!
I  bought this bodysuit agggges ago when it went on sale. I put myself on a bodysuit buying ban because quite frankly they are annoying AF! This one I sized up on to give me extra room, but i'll probably just wear it undone and tucked into my knickers like all the other bodysuits I own. I just loved the idea of a sheer nude top. So many different ways you could style it! Part of me just wants to go all out and pair it with just nipple pasties!
It took awhile to figure out what bra to wear. It was a toss up between nude, fuschia or this one. I just like how the flowers on the bra matched in with the colour scheme and the black made a nice contrast.
This skirt, I'm still a little on the fence about. I think I need to take it to get shortened. It hits at quite an awkward length on me and I think that I would wear it more if it was a few inches shorter. It's also very roomy. I ordered the 22 but could have easily fit the 20.
I have no idea what i'm doing in the photo below, but hey, it's cute!
Bodysuit – ASOS

||

Bra –

||

Skirt – ASOS

||

Shoes – ASOS
Oh, and these shoes, well, they are going to be sold. Turns out I can't walk in them anymore! One of the lasting effects of fracturing my foot.
How would you style the bodysuit?