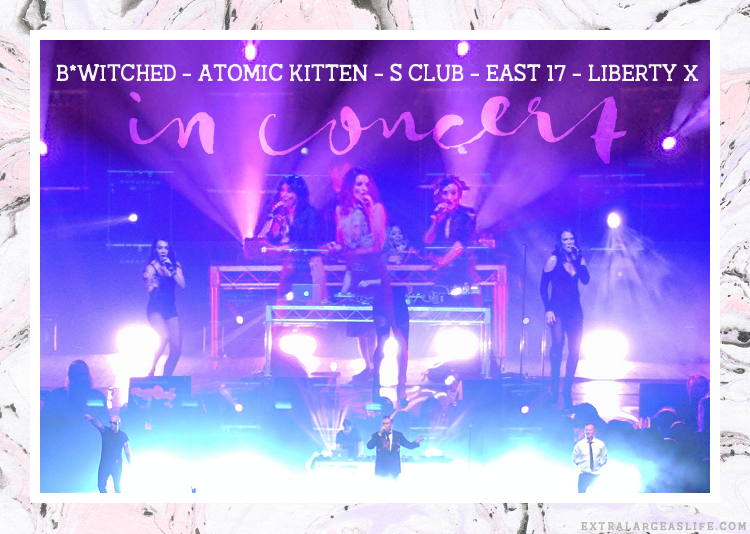 Concert! B*Witched, Atomic Kitten, S Club, East 17 & Liberty X!
Yesterday was a big day for me, but a brilliant one and I am so glad I pushed myself to do it all. In the early afternoon I went and visited my psych and then in the evening, my friend Mallory invited me to a concert. Now, that may not seem like much for most people, but it's a lot for me. I ended up spending just over 4 hours on public transport. Oh, and the temperature reached 38°c.
The concert was a mishmash of early 2000 British music acts, so basically music I LOVED! In my early teens I loved British pop music and would buy Top of the Pops mags all the time. Of course, you probably know 5ive was my one true music love, but I adored so many artists the UK produced.
The first act was Liberty X, who I didn't know much about, but I knew most of the songs once they got into it. It was a really great start with a lot of funky catchy music that had you grooving along. Gosh does that sentence make me sound old! Funky, groovy!
East 17! Oh man, they were SO fun to watch! I remember really loving "House of Love" and "Alright" when I was younger and seeing them perform them was amazing! They pulled out some old school dance moves and totally rocked their whole set!
S Club was reduced from 3 to 2 last night as sadly Jo was in hospital in New Zealand after being sick and needing an operation. That being said, I actually think they may have been my favourite performance! They included the crowd, with Bradley getting down in the audience to have fans sign along. They really got into their dancing and honestly, their songs are just great fun, dance along songs that make you feel happy!
Atomic Kitten! Liz has a fear of flying and so was replaced with Liberty X's Michelle, and if you didn't know the band, you wouldn't have picked the difference. The ladies worked together so seamlessly. Kerry was hilarious and had me cracking up numerous times!
Again, lots of upbeat dancing, with Kerry joking she was getting too old for it, plus she had broken the heel of her shoe on the way in. Their ballads were gorgeous, I got goosebumps when they performed 'Whole Again'. I'd forgotten how much I loved that song.
Lastly was B*Witched, who sadly had to rush through their set and not get to talk too much because the venue wanted them out by 10:30. They were down to 3 members as Lindsay couldn't make the tour. They performed all their hits as well as a few songs I didn't know from their 2014 album. I was super happy to see them perform my favourite song, Blame it on the Weatherman. I actually have the CD single of it stashed away somewhere!
So all in all, I had a brilliant night! Though, I tell you what, my foot is killing me today! A huge thank you to Mallory, for letting me tag along and making my inner 16 year old squee in happiness. We had such amazing seats. Sorry for the dodgy photos, I only had my phone.
What act from your teen years would you love to see live?