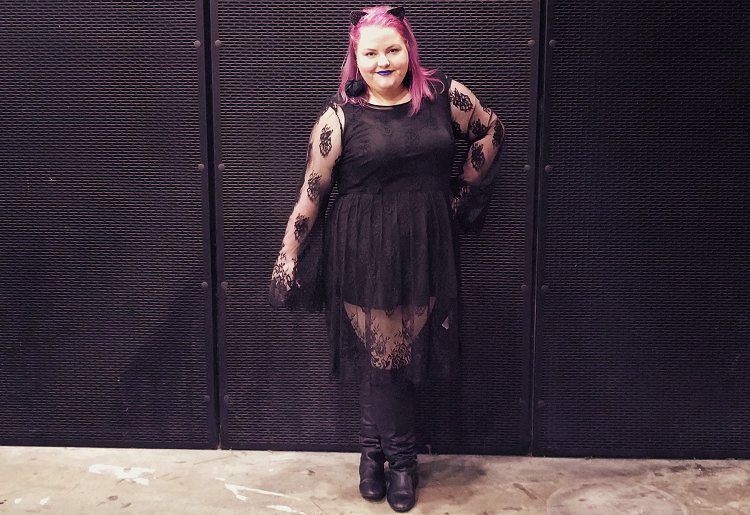 Goth Kitty, Saturday night outfit of MFWplus!
Personally, my favourite outfit that I wore to MFW+ was my Saturday night outfit. This was an outfit I would have LOVED to have had as a teen and one that I'm thankful I can now buy in my size! I find it amusing that the outfit I felt most comfortable and the most 'me' in, was the one I was showing off a bit more skin in!
The lace dress is SO beautiful, you may remember seeing it in my last Lustlist post. I am SO glad I got it. The bell sleeves and drape of it all just makes it feel so luxe. Now the dress is only the lace layer, so I had to decide what to wear underneath. I packed a few things, a crop top, a pencil skirt, a skater skirt, but in the end decided to wear my swimdress. It was just such a good short length and I didn't have to worry about flashing anyone.
I'd never really caught on to the blue lip trend this time around, but when Mermaid Salon launched their colours, I kept being drawn to Tulagi Dive. I figured I'd try it with this outfit and well, I'm a blue lip convert! The lipstick itself is super matte, but not drying or flaky like I've found some liquid mattes. I didn't end up having to reapply it that night and I got lots of compliments!
I decided to just go all out and add the kitty headband. I think my new clothing direction should totally be 'Goth kitten'. What do you think?
What was your dream outfit as a teenager?