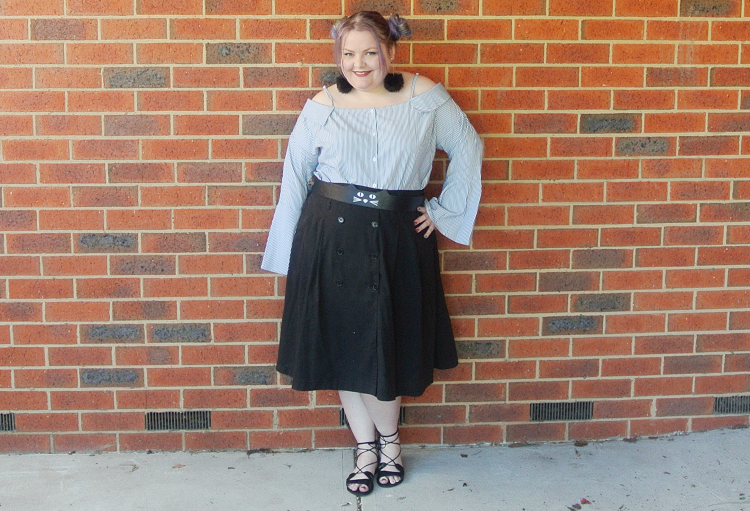 Outfit – Boohoo Bellsleeves!
Confession, this top was a spontaneous buy. These days, I try and think through my clothing decisions. Is it something that is different from what I already have? Can I wear it numerous ways? Is it something I would really wear? I didn't think at all when I found this, I just saw the statement sleeves and off the shoulder design and clicked purchase.
I love the shirt but it's very out of my comfort zone! I had so much trouble trying to style it. I don't wear shirts much, and this, while funky, still have a bit of an 'office' vibe to me. I think it's the pinstripes. It wasn't until I sat down and told myself to just style it my way, style it how I would style any other top, that I found an outfit I liked. Realising that I just needed to be myself made it so much easier.
This shirt is something I've been wanting in plus size since I saw similar ones months ago. Structured and statement sleeves. The off the shoulder detail is just a bonus. I'm really looking forward to wearing more off the shoulder tops when the weather warms up.
This skirt is sooo old and still a favourite! It's over 5 years old now I think and still going strong. It's amazing how some items are just timeless and you wear them over and over again. This is definitely one of those items.
For makeup, I played around with my Chloe Morello for Ciate palette. I am IN LOVE with the lip slick in Pin-up! I think I'll be picking up some more colours. The mascara may have just bumped my 2nd favourite mascara out of its spot too! The matte shadows in the palette are beautiful and buttery whilst the shimmers are a little harder to work with. I found a little bit of setting spray on my brush helped with that and they came out beautiful.
How would you style this top? I'd love your ideas!