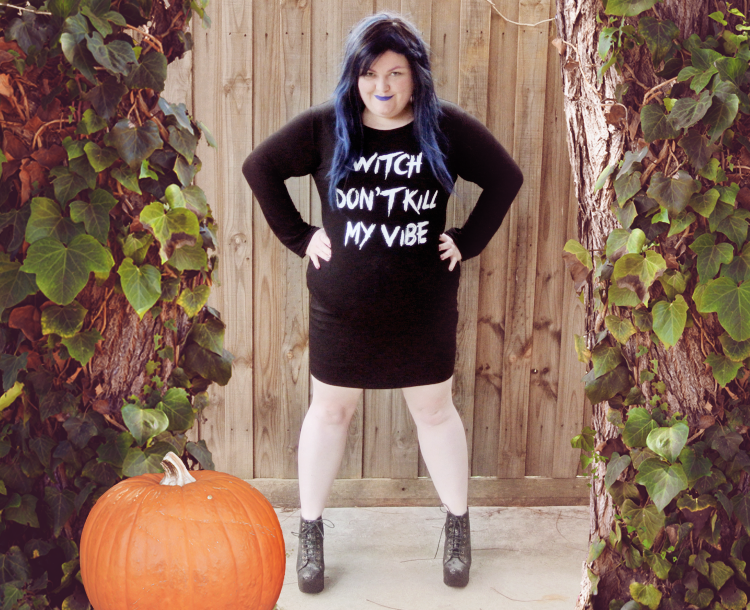 Outfit – Boohoo Plus Witch don't kill my vibe!
Hahah, so this is what happens when you're bored and it's close to Halloween. Me going crazy with dodgy photoshopping! Now while these are photoshopped out the wazoo, I want to say I didn't photoshop my lumps and bumps, it was just changing the backgrounds and colours. I still tried to make it so you could see what this dress actually looks like.
I've been really loving Boohoo as of late (if you couldn't tell, and no, this isn't sponsored, I bought it all myself). I'd been looking forward to Halloween gear hitting online stores, mainly ASOS, but I'd been disappointed. Luckily, Boohoo have released a pretty decent selection.
Boohoo do great sales, there usually is some sort of sale on and if you're lucky, you can get 50%. When I bought this dress is was $24 and I got it for $14.40 at 40% off. Though it seems to be $12 at time of posting!
I'd say that it's true to size, I got the 22 and it fits great. It's super stretchy and comfortable. With the stretch, I could have probably even sized down for a more body con fit, but this feels good on me. You can't see it too much in the images, but there is slight VBO, but not much as black is pretty flattering.
Dress – Boohoo (size 22) || Boots – Jeffrey Campbell Lita || Earrings – ??? Similar
Lipstick – Mermaid Salon Tulagi Dive || Eyebrows – Sugarpill Poison Plum
Which image do you like best? Did you enjoy the silly photoshopping?