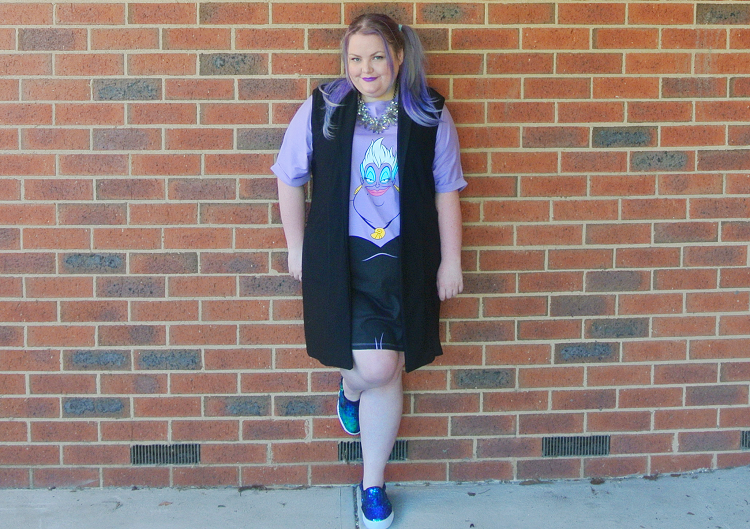 ROCKING ASOS PJS AS EVERYDAY WEAR – Part 2!
ASOS do some amazing pyjamas and I can't help feeling that they need to be shared with the world, but it's not really socially acceptable to go out in your pyjamas. Sure, there is the new pj looking pantsuits, but otherwise, it's a no go. So I like to try and incorporate them into my everyday style, to wear them in a way people may not at first realise "Oh! She's wearing pyjamas!". You can see my first attempt HERE.
When this Ursula night tee came online I was all "Praise the fashion Gods", because as a fat girl, I love Ursula, if just for the fact she's one of the only fat Disney characters around.
This sleep tee is really oversized, which means with the vest it does bunch up around the underarms, but I'm not fussy. If the print wasn't where it is, I would have added a belt too. If I was going out of a night in this, I'd pair it with some heels, but I thought my comfy sneakers, with sea coloured sequins, would go with the theme!
I wish I had a better place to take outfit photos, but this wall seems to be the best place at the moment. It faces out onto a major road though and I get a little self-conscious taking photos of myself! I think that's one thing I should work on, my photos on the blog. It's just me, my tripod and remote, but I think I can do a little better. Do you have anything you'd like to see change with my pictures?
I went with some purple lipstick! This is one of Australis Velourlips in Tok-i-o. You can see my make up a little better in my instagram picture here.
Sleep Tee –

ASOS

||

Long Vest –

Missguided ||

Necklace –

?? ||

Shoes –

ASOS
If you're a fan of Ursula, you can check out another Ursula inspired outfit I've worn HERE.
Would you wear an outfit like this?