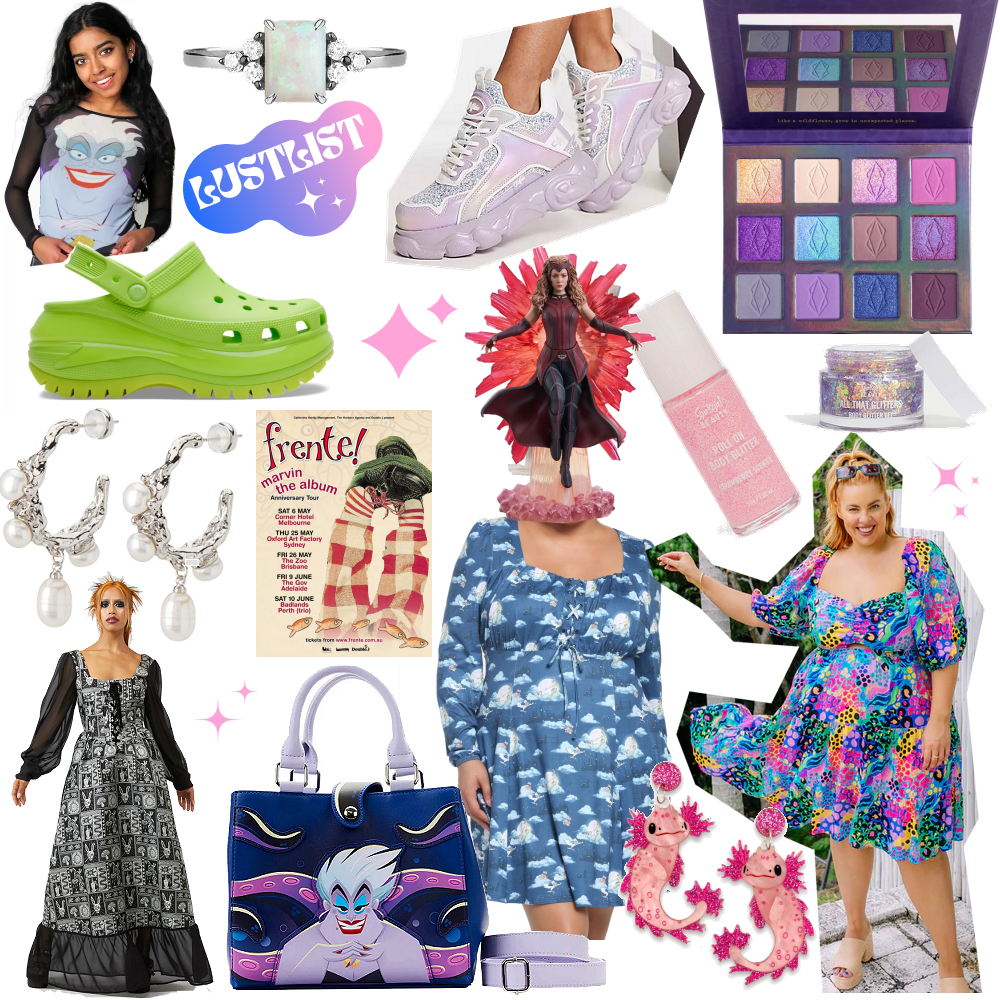 It's been a while since I've done a lustlist. That doesn't mean that I haven't had a lot of things I've been wanting. With my birthday around the corner (June 7th) I figured it wouldn't hurt to do one of these in case anyone wants to spoil me with some presents! 
CAKEWORTHY via TRUFFLESHUFFLE – The Little Mermaid Ursula Mesh Top – £32.99 || This top isn't even out yet, but I NEED IT! I live in mesh tees at work, whenever one comes in, i'm like "you're coming home with me". So the fact its mesh and Ursula, it's like it was made for me.
REGAL ROSE – Aphrodire Opal Silver Ring – Size L or XL – $65us || Honestly, I love alllll the rings from Regal Rose. The ring I wear nearly all the time is their coffin ring.
BUFFALO via ASOS – Cloud Chai platform sneakers in silver purple – $241 || I don't actually own any Buffalo shoes even though i've wanted a pair since back in the Spice Girls days. These ones are just so pretty!
LETHAL COSMETICS via Beserk – Nightflower Pressed Palette – $ 66.95 – Youpay Link || I love Lethal Cosmetics and this palette is just so pretty! I haven't actually bought a new palette for ages and i'm proud of that.
SPORTSGIRL – Roll on body Glitter $14.95 – Body Glitter Pot $17.95 || I went into Sportsgirl the other day and I was so excited to see roll on body glitter! I was instantly transported back in time to my teenage years. They had a few different colours and scents in store. I also want the body glitter pot! SO COOL!
PROUD POPPY – Havana Dress in Electric Leopard – $99.95 || This Kasey Rainbow print just turns me into the heart-eyed emoji. I LOVE the cut of this dress too. 10/10 all round!
WINTERSHEART – Pancake Axolotl Earrings – $50 || HOW CUTE ARE THESE!? Ahh! They would look so good with my Axolotl dress. I also just realised i've not posted about that dress, which I need to rectify because it's AMAZING!
HOT TOPIC – Peter Pan Sky Dress – $26.99us Price reduced from$53.99us || Look, the shipping to Australia from Hot Topic is ridiculous, but how beautiful is this dress! Peter Pan is my fave Disney movie and this dress just, I love it. 
ZING – WandaVision Scarlet Witch Statue – $118 || NEED. Look, I adore Wanda, so much so that my car is named Wanda! This statue is amazing! I have a similar one of Valkyrie that I love. I also want the Captain Carter one. My ladies!
CROCS – Mega Crush Clog – $129.99 || Yes, I have indeed turned into a Crocs person. I have the Mega Crush sandal in pink and LOVE them. These green ones just look so fun!
FRENTE – Marvin The Album Anniversary Tour Tickets x 2 for Brisbane – $67.35 x 2 || With a mortgage concerts have sadly become a thing out of our price range. Even when they are such a reasonable price like this. Seeing Frente would be fun, I love their music. It also reminds me so much of my late partner, he loved them and seeing them would be a bittersweet moment. 
LOUNGEFLY via Beserk – Ursula Crossbody Bag – $109.95 – Youpay Link || You should get why with this one. It's Ursula. My normal everyday bag is an Ursula Backpack (see here). It would be fun to have the option of a cross body bag!
DANGERFIELD – Court of Justice Dress – $158 || You may be thinking "Hey Natalie, don't you work at Dangerfield" and the answer is yes. I'd still love to be gifted some of the clothing! This dress however was never available in my store, otherwise I would have bought it. I can't justify buying it for myself when we don't have it in store. It is absolutely stunning though.
POST PRIMADONNA – Silver Aphrodite Earrings – $68au || These are just pretty.
What have you been eyeing lately? What's on your lustlist?