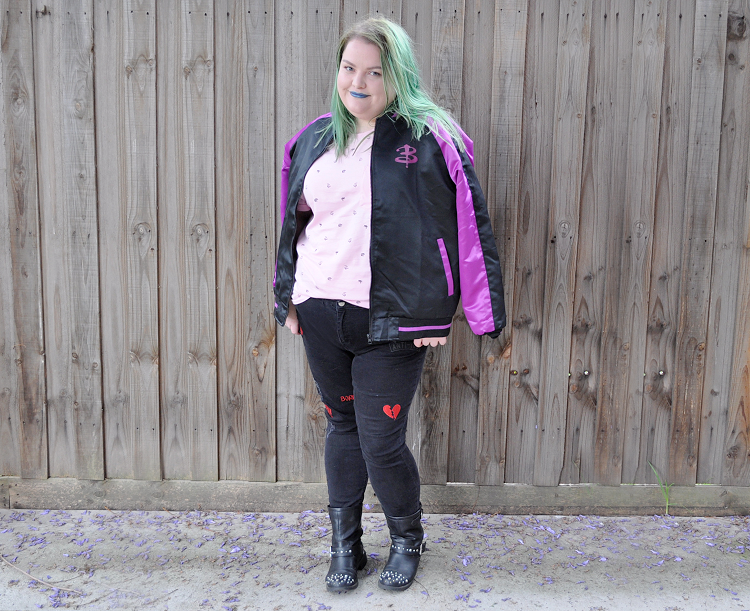 Oh hey, it's me! You may not have recognised me due to the fact that I'm wearing jeans and a tee. Yes, it has been done. I've always envied people who can pull of the jeans & tee combo, who make it look comfortable and chic. Being apple shaped I've always felt that it didn't suit me.
But you know what, who cares? I'm all about body positivity, but I sometimes shy away from things that I feel make me look 'fat', which is stupid. I am fat. No matter what I wear, I'm going to be fat. The whole ideal 'fat' body image shits me. People accepting fat bodies because they have a flatter belly, huge boobs, small waist, big butt. There are way more types of fat bodies. Which is why I've tried to show mine.
I admit, sometimes it is scary to do that, especially outside of the house. I've done it for the blog multiple times. I've worn lingerie (here), bikinis (here, here) and I actually do enjoy wearing crop tops and bodycon. But I still often shy away from showing my VBO. I'm going to work on it. I'm accepting of my fat body, why shouldn't I show it off more.
Ahem, anyway. On Monday, I met up with the ever so wonderful Alex, who I've known online for ages now. She's visiting Melbourne from Perth and we managed to meet and do a spot of shopping. It must be the year of meeting Perth's fine ladies, I also caught up with Lucy (who is bffs with Alex!) earlier in the year! So, Alex has always been a fashion inspiration to me, she speaks to my inner teen goth. Turns out, she's a shopping enabler and encouraged me to pick up this tee in the men's section of H&M. Sad story, they had matching comfy shorts, but only had small sizes left. I had images of me rocking the shirt & short combo channelling Taika Waititi vibes!
Can we take a moment to talk about this jacket? This amazing, marvellous, stunning jacket. Yes, it's a Buffy jacket with evil Willow on the back. I loved Buffy growing up, I had every episode bar one taped on VHS off the TV. I was that girl. I may have signed up to LootCrate again just for this jacket and I'm so glad I did! For anyone wanting sizing info, this is the 3xl on me.
So here it is, me in jeans in a tee! I wore this (without the jacket & different lipstick) to the hospital yesterday and felt very comfortable!
Are you a fan of the jeans and tee look?