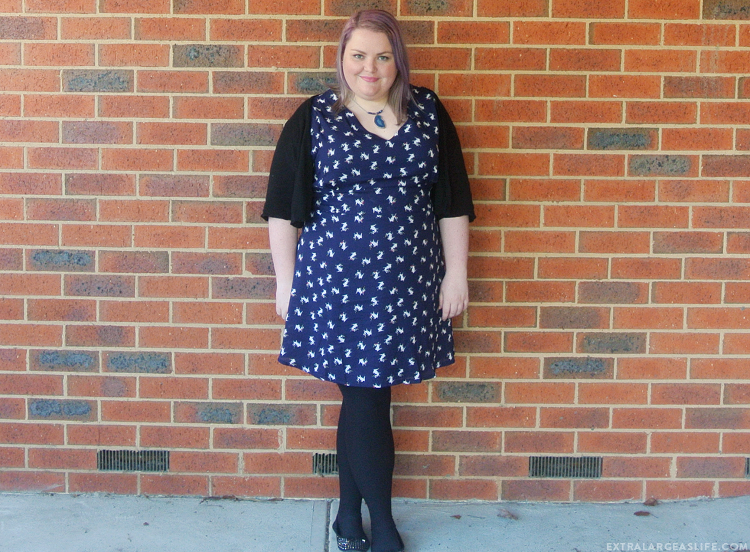 Outfit – Super cute plus size dog print dress!
On Sunday, I had the pleasure of heading into the city and having lunch at Rockpool. I'd never been into the casino before and boy is it beautiful! I only walked around the shopping area and into the restaurant, but it sure was fancy! Lunch was delicious, it was the tastiest meal i've ever had!
I had fresh oysters, hand dived Phillip Bay scallops with garlic butter and pangrattato. Cape Grim scotch fillet steak. Dutch cream potatoes sauteed with wagyu fat, garlic and rosemary. Mac & Cheese with speck. I was so stuffed by the end, I was glad for the walk back down Southbank to the station.
The weather was so lovely! I'd been eyeing this dress for awhile but I was unsure of sizing. I decided to bite the bullet and just order my normal size, and it fit perfectly! I was glad the weather was nice enough that I could wear it out, even though I had to add stockings and a cardigan.
Here is the dress without the cardigan. The sleeves are a good length and plenty roomy. It has a tie waist too which you can tie however you want too. This time I just pulled it tight and tied it at the back. The print is SO cute! Little dogs, some with red bow ties!
I decided on a pastel purple-y colour for my latest hair colour! This is currently a mix of La Riche Directions in Lilac and Brite Organix Grey. I want to try their pastel purple, but I haven't been able to find it yet. I'm liking it so far, but can tell it's going to need a fair bit of upkeep.
Dress –

Yumi via ASOS (size 22)

||

 

Cardigan –

Suzanne Grae

||

Shoes –

Kmart


Stockings –

Sonsee ||

Necklace –

I made it myself!
See, how cute is that print!?
If you could have any animal print on a dress, what would you choose?