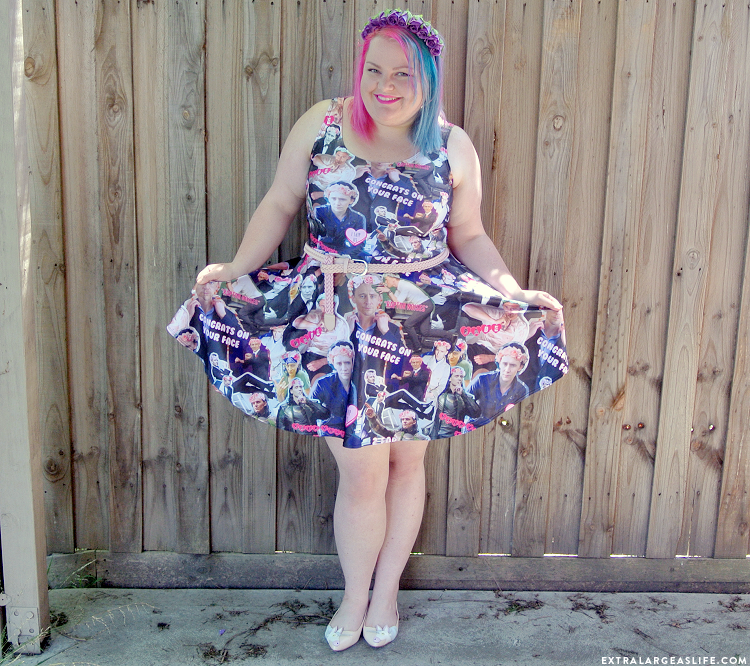 Outfit – Living Dead Clothing it's Tom Hiddles Skater
I fought the urge not to buy this dress for so long, but when LDC had a site wide sale, I ended up caving and snapping it up. I'm glad I did because this dress amuses me to no end. Not only does it have my #2 man crush Tom Hiddleston on it, but he's wearing flower crowns and it has fun, cute writing scattered over it.
Of course, I had to put on, well, not exactly a flower crown, but my favourite flower headband, to match. Also, first time showing off the new hair colour and cut here on the blog. It had been over a year since I had a trim so tried out a new place at my local store and was really impressed.
This dress is a 2xl, I was a little unsure how it would fit as my other LDC dress is a 3xl and is a perfect fit (See here). I figured it is a stretchy material, so I'd give it a try. Personally, I think it looks great and I'm happy with the fit. The only noticeable difference I find in size is that this dress is a bit shorter and slightly tighter around my boobs, but not so much that it stretches or warps the images.
Look, no arm coverings! Yep, still going strong on that new year goal! Melbourne weather has been it's normal hot and then cold yo-yo weather, but on those warm days, I'm enjoying the air of my arms! I hope that eventually I won't get anxious at all about showing them.
I paired the dress with my magical unicorn flats. My foot is fractured again and i'm wearing my boot periodically and resting it up. It's painful but not as bad as the last time. I need to invest in some heel grips for these shoes, I think ASOS have changed the sizing of their shoes lately as I used to fit their 8's perfectly and now they are slightly too big. Heel grips should make them the perfect fit though.
Dress –
Living Dead Clothing
(size XXL) || Shoes –
ASOS
(&
in metallic
)

||

Belt & headband – I don't remember
If you could have anyone's picture of a dress, who would you choose?